USI is proud to back the Blood For All campaign, which is calling for for an end to the ban on men who have sex with men donating blood for a year after sex.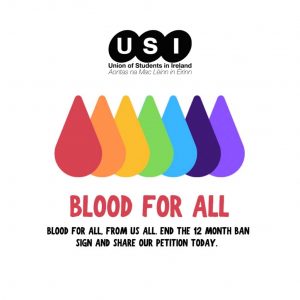 This should be done to end the unfair discrimination. However, would also help to tackle the shortage of donated blood available in Ireland right now
// // //
Tá AMLÉ ag tacú leis an bhfeachtas Blood For All atá ag iarraidh go gcuirfear deireadh leis an gcosc ar fir a mbíonn caidreamh collaí acu le fir eile fuil a dheonadh ar feadh bliain i ndiaidh chollaíochta.
Ba chóir deireadh a chur leis an leithcheal seo. Is féidir leis seo cuidiú leis an ghanntanas i fuil dheonaithe atá ann in Éirinn ag an bhomaite.
// // //
Blood For All have produced excellent resources explaining how queer men are restricted from donating blood, all about the BloodForAll campaign and what it wants to see happen. USI was proud to announce its backing of the campaign this week and you can view these resources on the USI Instagram grid here.
It has been USI policy for many years to campaign for the end of the unfair ban on gay men dontating blood and now the 12 month post sex ban on men who have sex with men. It is unfair discrimination and must change.
With this in mind, USI and Students' Unions across Ireland are delighted to continue this work by supporting the Blood For All campaign.
Please show your support for this campaign by signing this petition which calls on the Irish Blood Transfusion Service to:
End the blood ban against MSM blood donors who use PrEP, are fully vaccinated against Hep B and/or practice safe sex.
Enforce equal restrictions (should they continue to exist) – such as regular STI screening – on all potential donors.