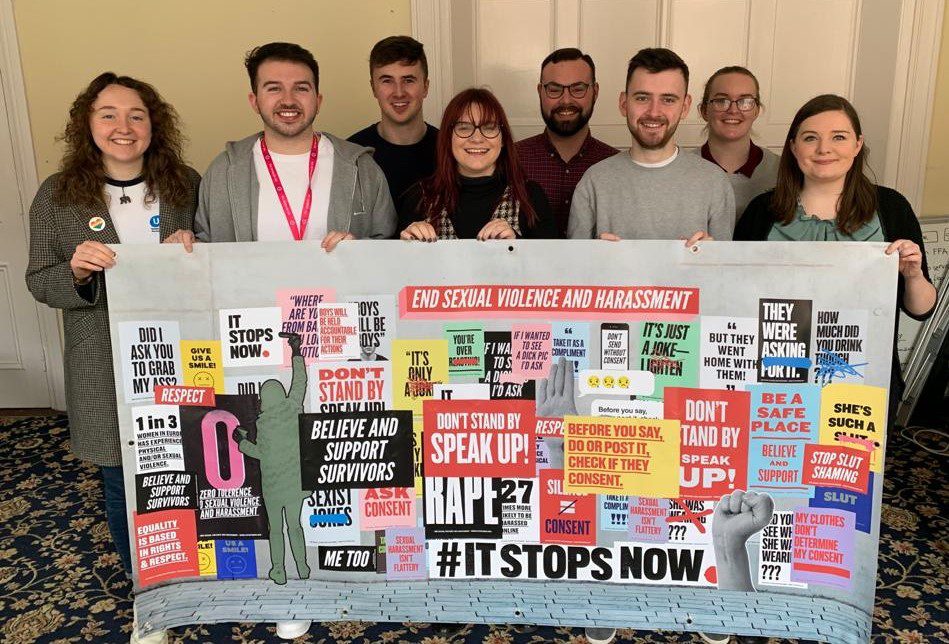 Sexual assault is a "stark reality" on college campuses in Ireland and today students are taking a series of actions aimed at demanding a stop to gender-based sexual violence in third level education.
The Union of Students in Ireland (USI) is teaming up with the National Women's Council (NWCI) to take a stand against sexual violence and harassment in Irish universities and colleges through the 'It Stops Now' campaign.
Students' Unions in numerous institutions are leading members in actions including poster-blasts, murals and banner-drops.
The campaign is part of a host of International Women's Week activities across Ireland and globally.
NWCI Violence Against Women Officer, Hayley Mulligan said: "The campaign will see students from UCC, Athlone IT, NUI Maynooth, NCAD, UCD, Waterford IT, IT Carlow, Carlow College, DCU, TCD, TU Dublin (City Campus, Blanchardstown Campus and Tallaght Campus), and NUI Galway all taking part in this year's event. There will be murals, banners, posters and social media activity throughout the day.
"This high visibility campaign aims to tackle the harmful behaviours which prevent students from being able to safely and equally participate in college life by driving change through awareness, training and support structures. The events taking place this week play an important role in this, reminding us all of our shared responsibilities in creating a culture of zero tolerance to sexual violence and harassment, both on and off campus."
USI Vice President for Welfare, Róisín O'Donovan said: "Despite developments in the area of consent in third level, sexual assault is still a stark reality on campuses, and this day of action is a reminder that we can't get complacent and there is still work to be done."
USI Vice President for Equality and Citizenship Megan Reilly said: "The timing of this action is pertinent as we approach International Women's Day 2020. It's so important that we continue to have these conversations and talk about inequalities in our society that persist due to a culture of sexual violence mostly levelled at women."