On International Recovery Day 2020 (September 30), the Union of Students in Ireland is asking people to show their support and solidarity by lighting up social media in purple to celebrate students who have been, or currently are, in recovery from substance misuse.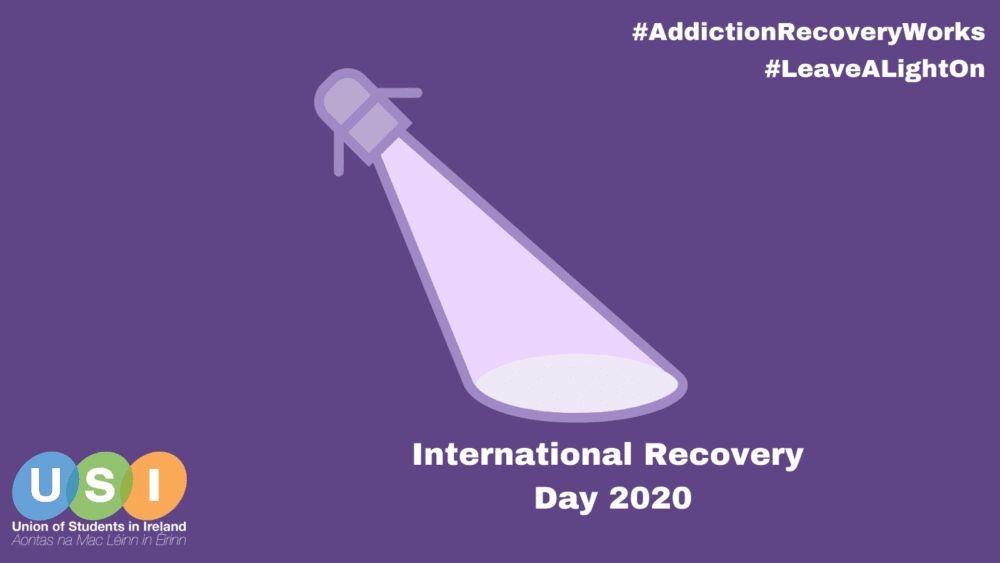 USI has created a purple Light Up Recovery graphic which it is asking students and others to share on their social media feeds to highlight the importance of celebrating and supporting people through recovery from drug and alcohol dependence.
Previously, Recovery Day has been celebrated in communities through local rallies, walks, and other events. However, with everyone staying at home this year, the aim of today is to bring people together from all over the world who are in recovery from all addictions on the same day.
Prominent buildings throughout Ireland, including Trinity College and the TU Dublin Grangegorman campus, will be lit up purple today to mark the occasion.
USI Vice President for Welfare, Clare Austick said the day is a very important one for many students who have recovered from substance use and are creating a new life for themselves through education, or those who have family members or friends who have recovered from drug or alcohol misuse.
Clare said: "Today we are encouraging as many people as possible to get involved and light up their social media profiles in purple. We are also asking people to educate themselves, be aware of the issue and help de-stigmatise people who are dependent on drugs through the language we use. We have worked with the HSE to create student-specific content on Drugs.ie, which we feel will be very useful for students.
"Today we want to celebrate each individual's journey to recovery and their bravery and courage. However, this is only the start, we intend to build upon the day and mark this occasion for years to come. We need to see substance dependency as a health issue and not a criminal offence and to put in place the systems in society that do that and support people to and through recovery."
Paul Duff, Project Co-Ordinator of the Recovery Academy of Ireland, which has been working with USI on this campaign, said: "The Leave a Light On campaign serves as a beacon of hope, signifying that help is available, and that people can and do recover. It gives me great pride to see well-known buildings light up purple this year. It takes enormous courage and commitment for people to enter recovery. Often people have to overcome marginalisation, stigmatisation and in many cases, trauma.  Recovery month is an opportunity to recognise their achievements and to celebrate people's individual journeys to get to where they are now."