The Union of Students in Ireland this afternoon (December 16) staged a socially distanced demonstration at Leinster House calling on TDs to sign its Education for All pledge and highlighting the urgent need for action in key areas of higher education funding and student support.
USI members also called on the Minister for Higher Education, Simon Harris to act on the key elements of the pledge, including starting the process to move towards an end to the Student Contribution Charge of €3,000, which is the highest undergraduate fee in the European Union.
Local Students' Union members across Ireland are also staging socially distanced actions outside the offices of TDs in their constituencies calling on them to sign the USI pledge and commit to taking the action needed to support students.
USI Vice President for Campaigns, Craig McHugh said: "Today we have stepped up our Education for All campaign and are keen to get the message across to TDs that students, future students and their families, in their constituencies need their support. Students are under enormous pressure and they can't take much more. This was the case before COVID-19, and it has been worsened by the pandemic. Students in Ireland continue to pay the highest fees in the EU, while spending an entire year studying from their bedrooms. We need action from Government, but we also need full support from every other TD in Dáil Eireann."
USI will also send an Education for All virtual Christmas card to all TDs with a link to the pledge asking them to give students the gift of real, meaningful support this year.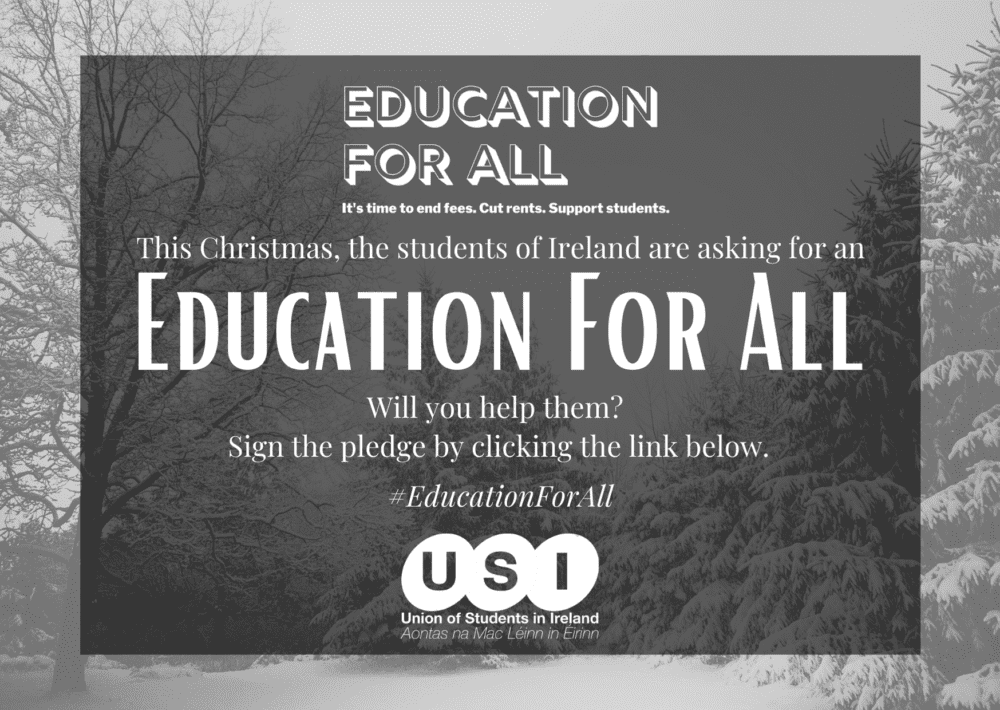 The six elements of the Education for All pledge are: 
An end to the Student Contribution Charge of €3,000, the highest in the EU.
An end to the study now pay later, and earn and learn policies and a move toward publicly funded education at the heart of government policy.
A publicly financed student accommodation building strategy and charter for student tenant rights.
A reform of student supports across the island that match the cost of being a student in the new decade.
A plan to address the crisis in Irish creative institutions.
An end to precarious working conditions for academic staff.
The USI Education for All pledge, the online form to sign, along with a list of the TDs who have already signed can be found here.