Minding your mental health
The spread of the Corona Virus can be very challenging for us all so it's important that we take care of ourselves and our mental health. We have compiled some useful resources below which you can use to keep your mind healthy.
General tips
It's important that we take care of ourselves and our mental health during this time. Have a listen to some tips that the USI Exec Team has put together  for you to mind your mental health!
Don't be too hard on yourself if you're not as productive as you might have been. There is no 'right' way to do this
Stay in contact with your lecturers and Students' Unions to make sure you are informed about any changes in assessments or support services to avoid additional stress down the road
Reach out you're not feeling not okay. Support services are linked in the post below.
Be mindful of alcohol and drug consumption at this time. Go to HSE Helpline and

drugs.ie

for info about this.
Take any regular medications and make contact with your medical provider in good time if you need replacements.
Keep a routine as much as you can. This means get up the same time, go bed the same time, have meals around the same time as if you were in college.
Get a good bedtime routine and reduce blue light/screen use and caffeine/sugar intake before you go to bed can help you sleep better.
Shower and get dressed. This will help you feel refreshed and ready to start the day. It's also important to be hygienic!
Take breaks and get some fresh air (while practising social distancing and within 2km radius of your home). Exercise has been shown to have a positive impact on mental health.
Stay connected with friends. You can use online platforms such as Skype, Instagram, facebook, google hangouts and zoom to stay in touch with friends and family. This is a great time to check in on friends you may not have spoken to in a while.
Limit your social media use  – spreading too much time scrolling could lead to increased anxiety.
Stay informed of updates but only take news from trusted sources such as official HSE accounts and using trusted news sites – it can sometimes be difficult to separate rumour from fact.
Eat as healthy as you can. Eating well and staying hydrated can help with your mental health.
If you're worried about a family member/friends Mental Health at this time – Visit HSE website for info on how to support friends / family.
On campus student counselling and support services are still operating, although in different ways for students. Make sure to check your college website for information about how to contact them
Student Counselling Services continue to operate remotely for students. Make sure to check your college website for information about how to contact them
Stay connected while staying apart. Fan i dteagmháil agus sibh ag fanacht óna chéile.
List of helpful resources and tools: 
Videos and updates from Jigsaw, the Youth Mental Health Organisation
https://jigsawonline.ie/coronavirus-and-youth-mental-health/
Mental Health Reform: List of supports and services
SpunOut website and guide to COVID 19 
National Womens' Council of Ireland 
Re:Charge Student support card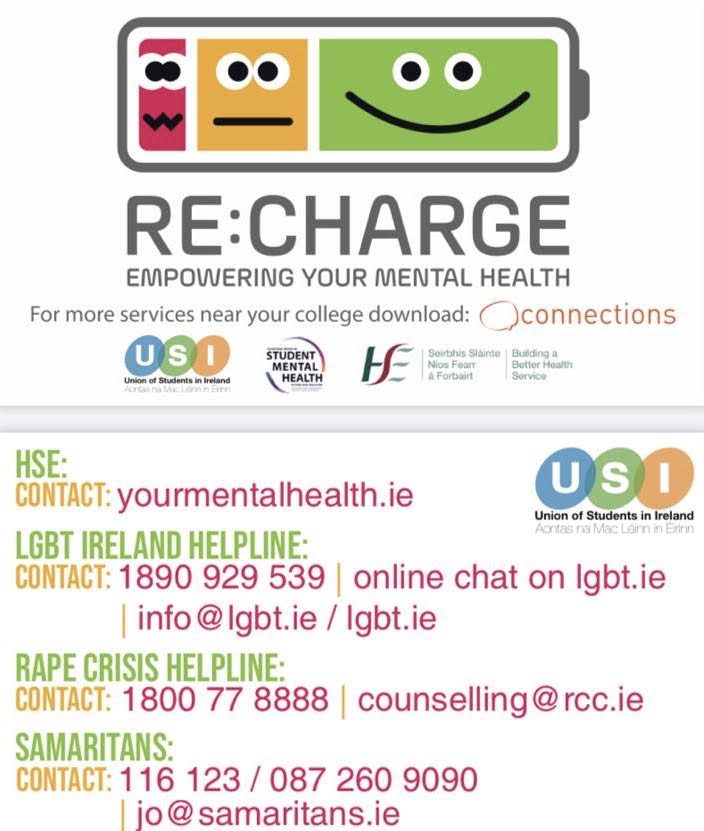 If you need to talk, free call:
Samaritans 116 123 or Text YMH to 086 1800 280 (Messaging Support Service).
LGBT Ireland: visit lgbt.ie or call the LGBT+ helpline on 1890 929 539
Bodywhys – Eating disorder support
Useful apps
Headspace – an app with meditation exercises
House party – an app that allows you to chat with friends while playing games
Runkeeper – tracking your runs
Pacer – tracking your steps/movement
HSE Eating disorder app: https://ncped.selfcareapp.mobi/
Supporting a family member/friends Mental Health at this time
For Researchers 
This can be a really tough and lonely time as an independent researcher, which can significantly impact the research and innovation community.
We advise that you reach out to your Supervisor(s), or other trusted advisors at your Institution, and make sure you are receiving the right amount of guidance and support that you might need.
It is important also that you have access to alternative study references or material online, given the closure of libraries and Institutions.
The IRC have also reassured their understanding in the delay of any projects or research deadlines, providing a case-by-case approach for any issues that researchers may experience in relation to COVID-19.
For queries in relation to Irish Research Council funding, click here or go directly to their website: http://research.ie/2020/03/13/funders-joint-statement-on-covid-19/ to access their Funders Joint Statement in relation to COVID-19.
For Workers
As student workers who may still be employed in any frontline service including healthcare, transport, community service, deliveries or supermarket staff – this can be an extremely stressful time for you and your families.
It is important to feel safe, protected, and supported in these roles by your employer and with your colleagues.
For any advice, reassurance of your rights, or to chat about your concerns at work, please contact SIPTU (Services, Industrial, Professional and Technical Union) Workers Rights Centre on 1890 747881 or wrc@siptu.ie and ask for a Student Worker Advocate.
Don't forget about the COVID-19 Unemployment payment, and don't be afraid to reach out to any of the listed resources; they are there to help.
Your Students' Union
Don't forget that your local Students' Union is available remotely through this time, for any worries, questions, or if you may need a chat. Don't be afraid to reach out.