Cyberbullying refers to bullying which is carried out using the internet, mobile phone or other technological devices.
Cyberbullying generally takes a psychological rather than physical form but is often part of a wider pattern of 'traditional' bullying. It can take the form of exclusion, defamation, intimidation, impersonation or sending nasty or threatening messages, emails, photos or video clips; silent phone calls; putting up nasty posts or pictures on a message board, website or chat room; saying hurtful things in a chat room; pretending to be someone else in a chat room or message board or text message and saying hurtful things; or accessing someone's accounts to make trouble for them
Examples of cyberbullying:
Cyber-bullying can take many forms. It can take the form of exclusion, defamation, intimidation, impersonation.
Below are some examples:
Sending offensive or threatening messages, emails, photos or video clips
Putting up nasty posts or pictures on a message boards, social network sites, website or chat rooms
Saying hurtful things in a chat room
Pretending to be someone else on a social media site
Accessing someone's accounts to make trouble for them
Hacking into your online accounts

 
Click here to view USI's Guide to Cyberbullying
[tabgroup]
Set your profile to "private" so that you can control who has easy access to your information.
Use discretion when putting pictures (or any content for that matter) on your profile.  Your friends might think that picture of you acting silly at the party last night is hilarious, but how will your parents or a potential employer react?
Don't add people as "friends" unless you know them in real life. Just remember that these people have open access to all of your posted content and information.
You may be held responsible for inappropriate content on your profile that is in violation of the Terms of Service or Acceptable Use Policies of the Internet Service Provider or website(s) you use. For example here is the Terms of Service for Facebook https://www.facebook.com/legal/terms.
Never give out your passwords – always keep your passwords and PIN numbers to yourself, and make a habit of logging out of your email/Facebook page if you're using a public computer, including those on campus or in halls of residence.
Pick your friends carefully – remember whatever you post online can be seen by everyone who's got access to your page or the discussion board. If it's Facebook, only make friends with people you're ok sharing information with.
 Use Netiquette – be polite to other people online. Think about what you're saying and whether it might be hurtful or embarrass them in public, even if it's funny.
Don't send a message to someone else when you're angry – wait until you've calmed down and have time to think. Once you've sent it, you can't take it back.
Be careful about where you 'check in'. If your account is not set on private and a previous check in 'at home' along with a post that you are heading away for the weekend with friends, can be useful for burglars, they know your address and they know the house is empty.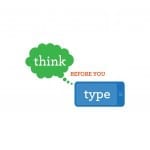 Most of us are on on the internet a lot these days, and it's a pretty sociable place to be. You can chat to people on the other side of the world, find out major news on Twitter first, share music, blogs and videos of sneezing cats/fainting goats.

We want to encourage everyone to Think Before You Type no matter what the situation.  We all need to think before we type in terms of response, intervention and to prevent bullying behaviour. 

Reporting to Service Providers:

Video and Photo Sharing sites

If a photo or video that you feel violates your privacy is posted on a website, you should contact the up-loader directly using the sites message function. Sometimes they aren't aware that you feel uncomfortable with the posting of the content.

If you can't contact the up-loader or they refuse to remove the content in question, you should notify the website owners of your concerns. If the content is illegal or goes against their terms and conditions, they will remove it from the site within a reasonable amount of time.

Report content on YouTube:

http://support.google.com/youtube/bin/request.py?contact_type=abuse)

Report content on Flickr:

http://www.flickr.com/report_abuse.gne

Social Networking sites

The first thing you should do if you are having issues with content on a social networking website is report the matter to the website owners. You can use the website reporting tools to do this, for example you can click report photo to an offensive photo on Facebook.

Facebook

Twitter

https://support.twitter.com/groups/33-report-abuse-or-%20policy-violations

If you are experiencing difficulties with other Social Networking Sites not listed above, you should contact the site administrators directly for advice and assistance.

Internet Chat

Windows messenger Live/Hotmail

You can report any illegal or inappropriate behaviour, such as harassment or threats, on MSN Messenger by notifying Microsoft using the form on this webpage:

https://support.live.com/eform.aspx?productKey=wlmessengerabuse&ct=eformts

Skype

Yahoo Messenger

http://help.yahoo.com/l/us/yahoo/abuse/

If you are experiencing difficulties with other operators not listed above, you should contact your operator directly for advice and assistance.

Internet Service Providers

If you are experiencing bullying or harassment through a social networking service (SNS) and you are encountering difficulty in reporting this behaviour, your internet service provider may be able to assist you in providing information on how and where you can report such abuse.

Please remember that bullying or harassment occurring on an SNS is a matter for that SNS abuse team. In the first instance it should be reported to them using their online complaint facility (usually a "report abuse" button that appears on the profile display or a link at the bottom of the page).

Mobile Phones

O2 Customer Care:  1909 (Bill paying customers) 1747 (prepay) 1850 601 747 (from a landline)

Block It is a free service provided by O2 which allows young people to block unwanted texts, pictures or videos from specific mobile phone numbers. The programme is so easy to use. Just text BLOCK IT START to 50216 to register. (Not available in Northern Ireland)

Vodafone Customer Care:

1907 (Bill paying customers), 1850 20 87 87 (Ready to Go)

3 Customer Service:

From your 3 mobile 333, from other phones 083 333 3333

Meteor Customer Care: 1905 (Pay Later and Pay As You Go customers)

For NI students

02 Customer Care

202 (Pay monthly) 0844 809 0202 (from a landline)

4445 (PAYG) 0844 809 0222 (from a landline)

Vodafone Customer Care

191 (Pay monthly) 0870 070 0191 (from a landline)

191 (PAYG) 0870 077 6655 (from a landline)

3 Customer Care

333 (pay monthly) 0843 373 3333 (from a landline)

444 (PAYG) 0843 373 4444

T-Mobile

http://support.t-mobile.co.uk/help-and-support/index?page=home&cat=NUISANCE_CALLS

150 (pay monthly and PAYG) 0845 412 5000 (from a landline)

Virgin Mobile Customer Care

789 (Pay monthly and PAYG) 0845 650 4500 (from a landline)

Orange Customer Care

http://studio.orange.co.uk/safety/mobile/156/160.html

150 (Pay monthly) 0797 310 0150 (from a landline)

450 (PAYG) 0797 310 0450 (from a landline)

I

f  you feel you are being victimised online and are a target of cyberbullying, you are not on your own and do not need to face it on your own. Don't keep it to yourself, talk to someone about it whether it's a roommate, class mate lecturer or Student Union officer.  There are people who want to help and can help.

If you're feeling overwhelmed, you might find it helpful to talk to a counsellor. It's also important to ask for, and accept, support from your family if you can. If you feel you need to talk to someone outside the situation, call Samaritans on 1850 60 90 90 (Ireland)  0845 790 9090 (NI&UK).
Your Students' Union is there to help you; visit their website, call into their office or send them and email or text. Call into your local Students' Union for some advice, support and referrals to other support services on campus.
PleaseTalk.org is a useful source for students, just  select  your college and identify what services that are available that they might want to access.
What can you do?
Intervene in any conversation if you believe someone is being victimised. Intervene can be a simple as reporting bullying behaviour, this could be private message or a phone call, Don't be the bystander
Report the person/comment/photo.
Provide support to the person being bullied and include list of support services. Information on supports is available at the end of the guide.
Stand up to the bully, because no reaction is often interpreted by the bully as approval or encouragement.
If you see bullying behaviour online, put yourself in that situation, what would you want someone to do to help? If you do intervene, be mindful not to engage in behaviour that is offensive to either the victim or the bully.
 Get involved with our campaign! Have a look at our Student Guide to Cyberbullying and learn how you can help.

 

[/tabgroup]