If you have not already registered with Deal Effect, it's time to register your Students' Union with the service in order to ensure that revenue from sales are correctly channelled directly to your SU. What is a trickle now could turn into a revenue stream in the future – and your members will directly benefit from good deals.
Why?
The Video below will explain (refresh page if not displaying correctly).
Registration Process
1. Log on to http://www.dealeffect.ie/charities/new and complete the form (as shown below).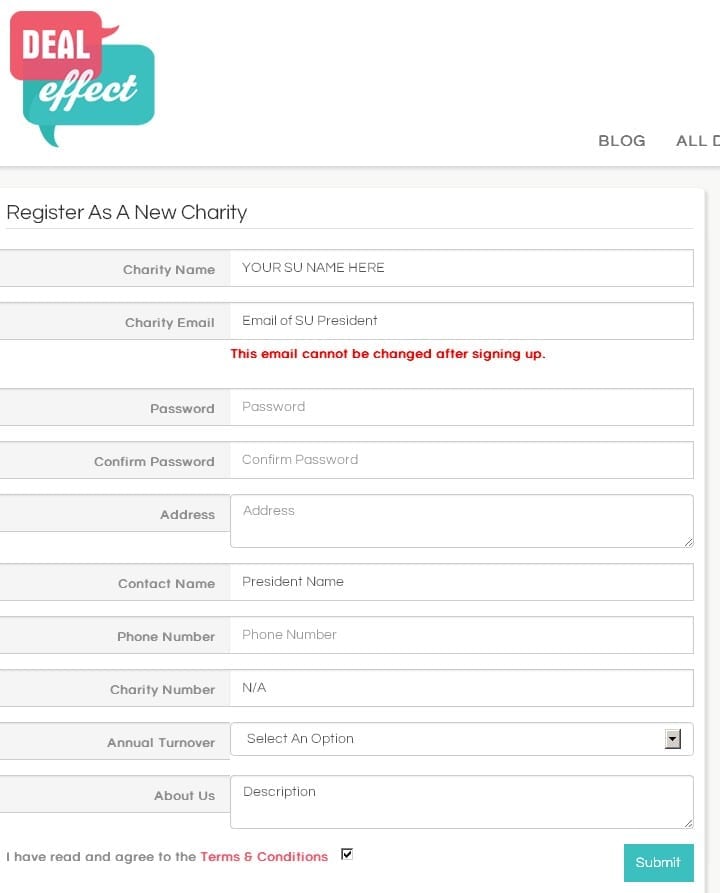 If your SU does not have a Facebook or Twitter page, leave blank. (although we recommend that you set a Facebook page up for promoting your SU and communicating with students).
Remember the password you create as this will be used to access your charity admin page in the future.
Username will be your best SU email address. Please use a generic email address that is unlikely to change as this cannot be modified by us (or you) in the future. ie: president@<suname>.ie
Please read the terms & conditions carefully and tick the box.
2. Click Submit.
3. An email will be sent to you confirming your initial sign-up to Deal Effect.
4. Deal Effect will review your application.
5. Once application is approved by Deal Effect you will receive a new email outlining how to complete the process.
New SU members of Deal Effect will enjoy the opportunity to gain significant rewards from the 11% donations as their subscriber base grows. The Deal Effect team will continue to provide the marketing support required to drive the highest levels of subscription from all the charities involved.
In order to further support the opportunity for all involved, Deal Effect Ambassadors will be promoting the venture through TV, Radio and press interviews and in digital social media. The Deal Effect marketing and PR team will be supplementing this with engaging stories and conversations in social media. Check out the Merchant Referral Scheme on the website and follow Deal Effect on Twitter and Like it on Facebook to interact, get updates and share content. #GiveBack11
All SU members of Deal Effect are actively encouraged to use all of these opportunities to increase awareness of Deal Effect and thus drive the necessary growth in the subscriber base that is needed to make the venture successful for all.
All those who know about Deal Effect are in agreement that it presents a unique and compelling opportunity for charities and the public in Ireland – whereas there are over 50 daily deal websites operating in Ireland today vying for the €60M market, only Deal Effect is dedicated to raising 11% of that revenue for the good works and causes of its members.
Together we are stronger.