The National Student QA Reviewers Pool has been established by Quality and Qualifications Ireland (QQI) and the Union of Students in Ireland (USI).
The latest call for applications to the pool has now opened. Pool members will receive training from NStEP, QQI and USI on quality assurance in Irish Higher Education and quality review procedures.
The Student QA Reviewer's Pool is made up of students trained by QQI and USI to sit on review panels and ensure the student perspective is evident throughout quality assurance in Ireland. Student Reviewers are paid for their time on panels and are reimbursed for expenses.
2019 Call for Reviewers
To apply please complete the form found here: National Student QA Reviewer's Pool Application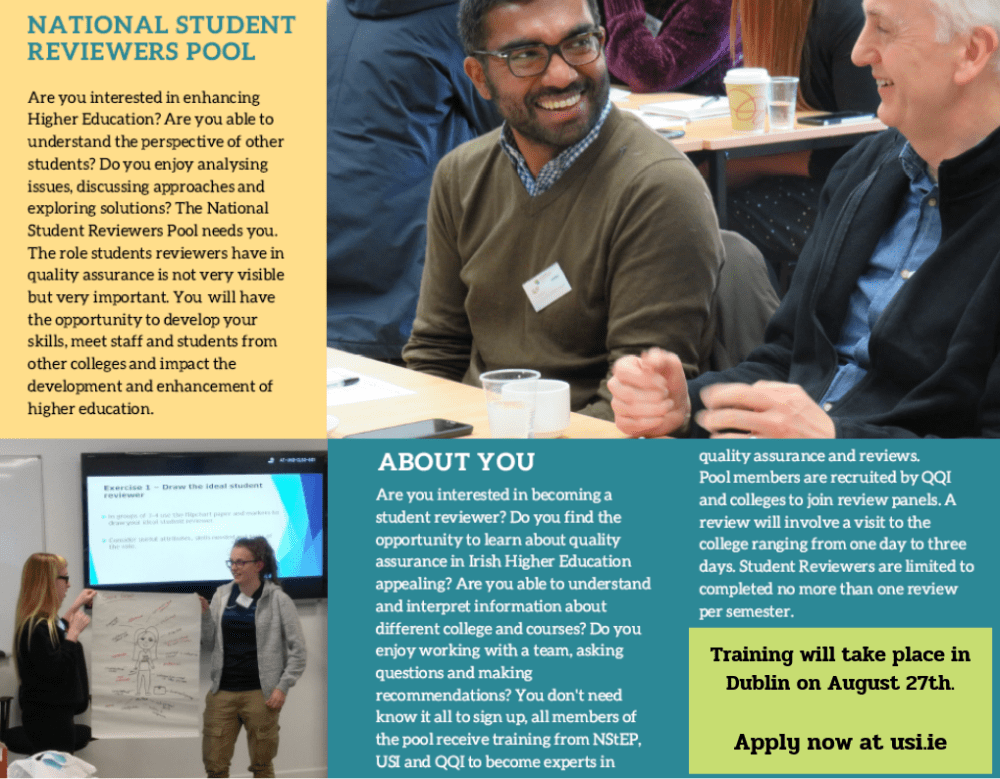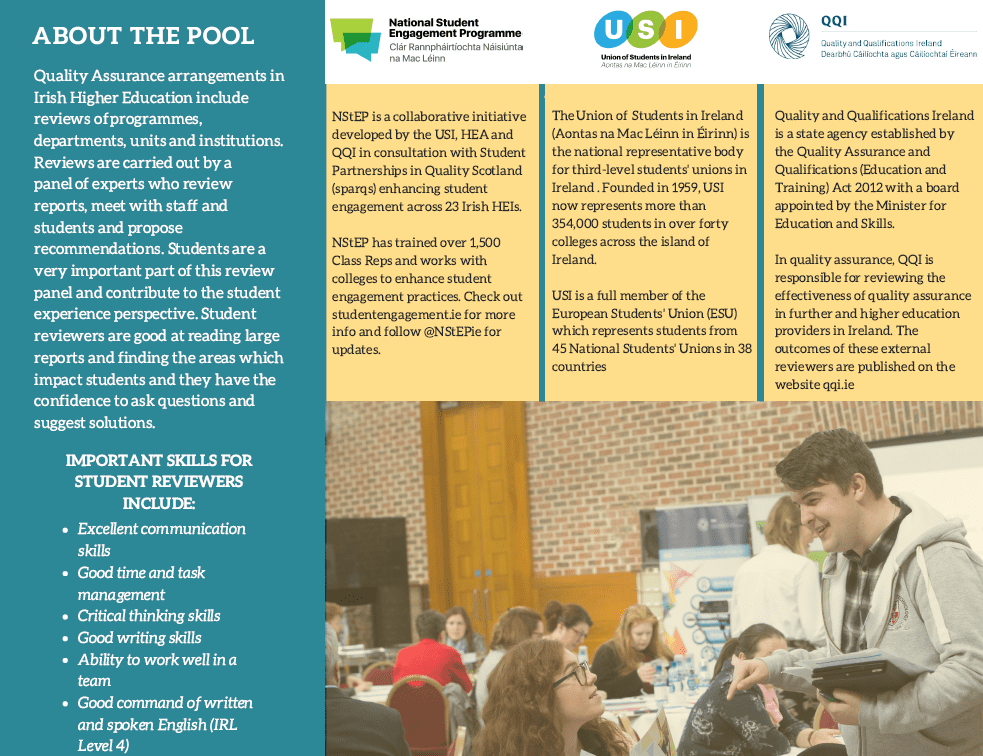 For further information contact academicaffairs@usi.ie
National Student QA Reviewer Pool Training
The Pool training will be hosted by the QQI and USI in Dublin on August 27th 2019. Applicants are expected to be available for this training. NStEP will support the training at their first annual Train the Trainer conference. The pool participants are expected to be from a range of institutions and study across a range of disciplines and subject areas.
Quality & Qualifications Ireland (QQI) will explain the work that they do in quality assurance. Watch their introductory video here: https://youtu.be/oteJZhW1E9Q
The Union of Student in Ireland (USI) will explore the role of students in quality assurance with the participants.
About Quality and Qualifications Ireland 
Quality and Qualifications Ireland is a state agency established by the Quality Assurance and Qualifications (Education and Training) Act 2012 with a board appointed by the Minister for Education and Skills.
Their functions include those previously carried out by the Further Education and Training Awards Council (FETAC); the Higher Education and Training Awards Council (HETAC); the Irish Universities Quality Board (IUQB) and the National Qualifications Authority of Ireland (NQAI).
In the area of qualifications, they are responsible for maintaining the ten-level NFQ (National Framework of Qualifications) are an awarding body, setting standards for awards made in the NFQ. They validate education and training programmes and make extensive awards in the Further Education and Training sector including in the Education and Training Boards as well as in the Higher Education private sector. They also provide advice on recognition of foreign qualifications in Ireland and on the recognition of Irish qualifications abroad.
In the area of quality assurance, QQI is responsible for reviewing the effectiveness of quality assurance in further and higher education providers in Ireland. This includes the universities, institutes of technology, Education and Training Boards and providers in the private further and higher education and training sectors (availing of QQI awards). The outcomes of these external reviews are published on the website qqi.ie.