European Student Convention 33 – Galway, Ireland.
USI looks forward to welcoming our European friends and partners at the European Student Convention in Galway from 6 – 8 March 2018. This hub contains all the information we have on the event, and information for registration.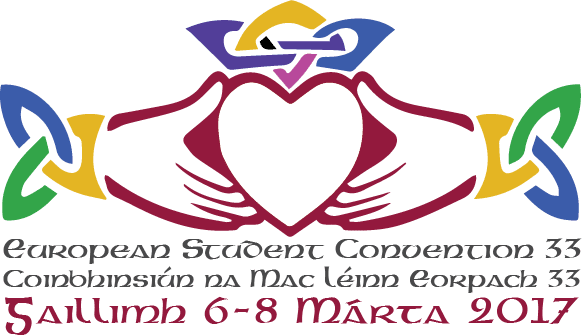 About Galway
Galway is a county and city in the west of Ireland. It's considered one of the cultural highlights of Ireland and one of the most welcoming places in the country. Our hosts in Galway are the National University of Ireland, Galway Students' Union.
How do we get to Galway?
It's very accessible by bus and train from Dublin – but most delegates should take the GoBus from Dublin Airport to Galway City Centre.  
Getting around in Galway
Galway is a uniquely walkable city. You can get from Shop Street (the centre) to the University in around ten minutes walk. The distance from the hotel to the University is about the same.
Social Programme
ESC33 is not just about the business of the convention.  We see it as a unique opportunity to mix and socialise, learn from one another's cultures and let students from around Europe and further afield see what Ireland has to offer
FAQs
Where should I fly to?
Dublin Airport. 
What do I do when I arrive?
Walk to the exit of arrivals and cross the road towards the Bus terminals.  There's a cafe if you arrive between buses.  We recommend GoBus for your service to Galway. 
What do I do when I arrive in Galway?
From the Bus station in Galway to the University is a ten-15 minute walk.  Walk towards Eyre Square and then follow the signs for the University – or take a taxi.  You're getting very close to the University when you cross the fast flowing River Corrib.
Where are we staying?
We're staying in the Nox Hotel on the Headford Road. On Monday 6th we'll all be having breakfast at the hotel, and we'll walk to the University in groups together.
What about money?
Ireland uses the Euro – and there are cash points at Dublin Airport, in Galway city Centre and in the University. Ireland equally accepts cards and cash, but it's good to have cash for small purchases.
Taxis in Galway?
We'd urge you to download the Hailo app for your phone and use this to get taxis in Galway.  This can be paid by cash or by registering a card with the app.  It's how we tend to get taxis in Ireland!
Getting from Galway to Dublin Airport again?
We recommend GoBus again, but there are other suppliers.  The buses go very regularly and follow very similar routes.
Where's the map?
It'll be in the printed reader and we'll supply a First Day Walking Map here to download and print!
What's the hotel like?
Warm, clean and convenient with a good Irish breakfast!
What's the climate like in Galway?
When it's good it's glorious.  When it's bad it feels like walking is swimming.  Galway is on the extreme West of Europe.  Average temperature varies between 11 degrees to 4 degrees in March. It rains quite regularly.
I'm going to get hungry. Wat do?
You won't get too hungry. Breakfast each morning and delicious meals for lunch and dinner each day.  We'll probably arrange some snacks as well – but if you do get hungry there's a Students' Union shop and a restaurant.
Where's the nearest hospital?
University Hospital Galway is a short walk (and really short ambulance ride) away from the University and hotel.  Bring your European Health Card thingy.
ESC33 Agenda
ESC33 will deal with a number of subjects including the student response to the UK's proposed departure from the European Union (Brexit). READER FINAL
What to do in Galway?
It's a beautiful city with a rich and ancient heritage. The Spanish Arch dates back to 1584 and the fabulous Shop Street meanders from Galway Bay to the picturesque and lively Eyre Square.  If you have a little extra time we recommend visiting 'out west' to Conemara where the Irish language (an Gaeilge) dominates and the three Aran Islands dot the sea.  You can fly or take a ferry out to the islands and experience what feels like the edge of the Earth on Inis Mór (Big Island).  
If it's Irish traditional music you're after, it's all over Galway – and we'll be laying on some music as part of our social programme.
If you're into your international history, you'll find the village of Aughrim a little further east.  This is where the Williamite War was decided, essentially leading to 20 years of peace in Europe and the emergence of a strengthened British State. Was it where Brexit began? 
What can I bring home from Galway?
Hopefully, you'll take home lots of knowledge and excitement and a desire to come back.  But if you want to capture 'Galway' you might consider a nice warm Arran jumper or a Claddagh ring – worn to show either friendship or love depending on its orientation.  
An Ghaeilge (Irish language)
As part of our cultural programme, we'd love to turn you on to the Irish language. It's spoken more in Galway than almost anywhere else and it's pretty beautiful.
The week of the European Student Convention corresponds with the national Irish celebration of the Irish Language – Seachtain na Gaeilge (pronounced Shocktawn na Gwayligga) which means 'Irish Language Week' 
Impress friends and confound your enemies with these beginners phrases:
Dia duit  (pronounced 'Deea Gwit") – Hello!
Dia is Mhuire duit! (pronounced 'Deea iss Woora Gwit") – Hello to you too!
Pionta amhain le do thoil (pronounced "Pyonta ahwan le doh holl") – One pint please.
Cupán tae le do thoil (pronounced 'Cupawn tay le doh holl") – One cup of tea please.
Tá an banisteoir ginerealta Aontas na Mac Léinn in Éirinn iontach! (Pronounced "Taw an banistore gineralta ayntas na mac lane in Erin eentack") – This is the General Manager of USI.
ERASMUS birthday
Our agenda includes a reflection on the success of the ERASMUS programme as it approaches its 30th birthday.  We'll celebrate the event with a party and discussions on what ERASMUS means to the students of Europe.
Please select a valid form