Letterkenny Institute of Technology Student Union, in conjunction with Letterkenny Chamber of Commerce and Letterkenny Institute of Technology, will officially launch the Business Employment Scheme for Students (BESS) on campus at Letterkenny Institute of Technology (LYIT), on Monday 21 September, 2015. The BESS initiative, a brain child of the Student Union President, Dylan McGowan, has been developed to enable students and businesses engage with each other, for the purpose of providing part-time or temporary jobs for students.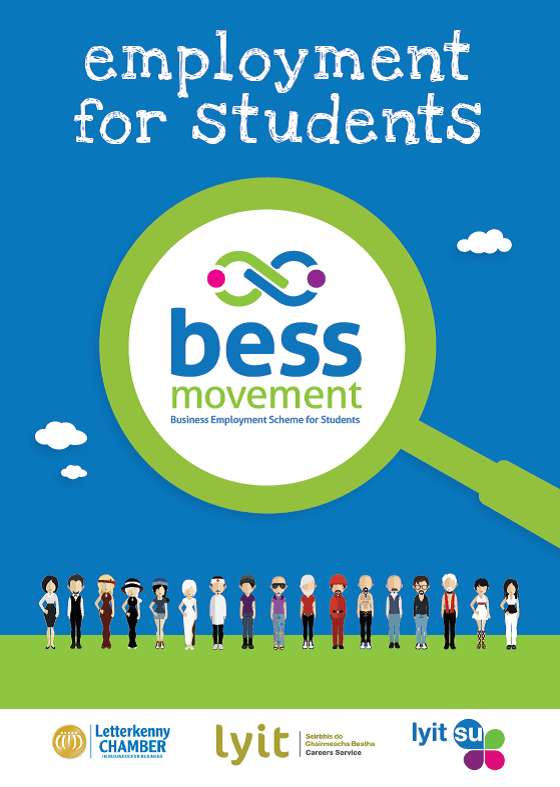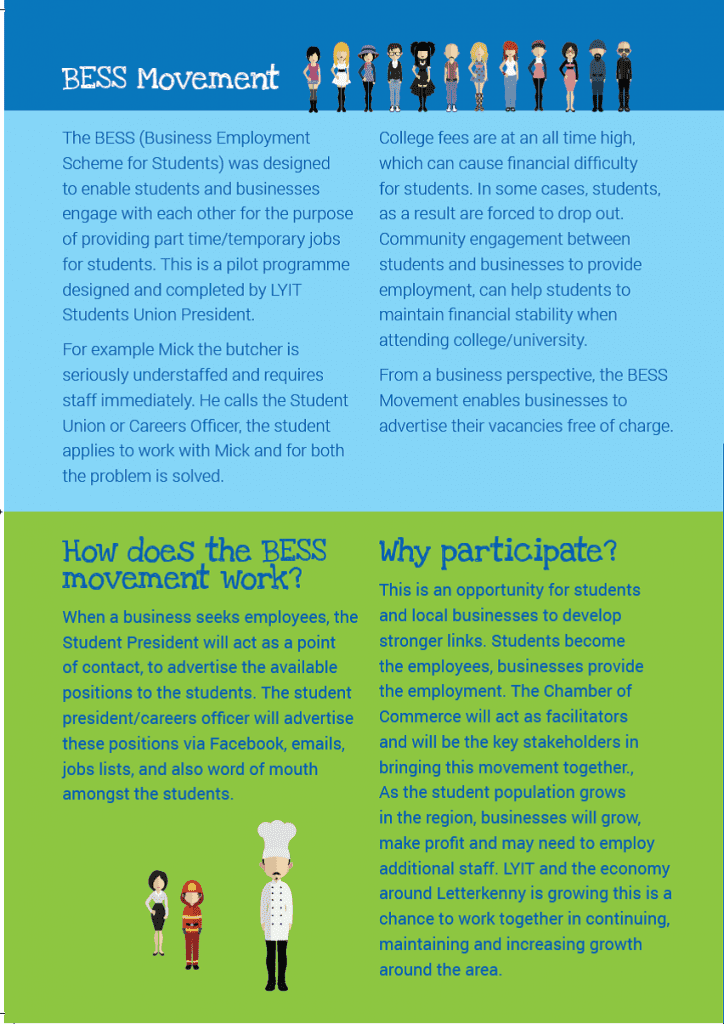 This pilot programme hopes to assist local businesses, by providing the local business network with access to LYIT students, who may be seeking part-time or temporary work. Dylan McGowan, Student Union President, added "I know what it's like to be a struggling student; this initiative aims to match local business needs, with needs of LYIT students, seeking part-time work. With thanks to Catherine Lyster, Careers Officer at LYIT, I have been able to bring this initiative to the pilot stage. I have been overwhelmed by the response from local businesses to get involved in the BESS programme, and this is thanks to Toni Forrester, Letterkenny Chamber of Commerce, who has backed this initiative. "
Toni Forrester, Letterkenny Chamber has welcomed the scheme and has outlined that "Letterkenny Chamber has always recognised the value of LYIT and indeed the students to the economy. We know that students are under more financial pressure than ever before and we were pleased that the new President of the Student Union approached us to get involved in the Business Employment Scheme for Students (BESS). The student cohort provides a source of available labour especially at those times of the year when part-time staff are most needed. This scheme will give local employers an opportunity to advertise and their vacancies at no cost and directly to students. We will be encouraging our members to avail of this unique and new service."
Paul Hannigan, President, LYIT,  is also supporting this scheme  "I am delighted by the initiative shown by Students Union President, Dylan McGowan and his colleagues in this project. At Letterkenny IT we aspire to support the local economy through engagement with various stakeholders including businesses of the region. This initiative will be viewed as a useful asset to businesses in the locality as we have bright, ambitious and hard-working students on both our campuses who would relish the opportunity of part-time work in the locality. While encouraging students to avail of this opportunity we know they must achieve an appropriate balance with their studies. This year we envisage it to be a pilot programme but hopefully with the help of feedback from participating businesses, this initiative can become solidified over time".