Union of Students in Ireland (USI) and the National Forum for the Enhancement of Teaching & Learning in Higher Education today launched the 2016 "Teaching Hero Awards". The awards are a collaborative effort of the Forum and USI.
The Teaching Hero Award is the only student-led national teaching award in Ireland. This year's theme of "Inspiring and Innovating" asks students to identify third-level teachers who have engaged with new ideas and practices to enhance their learning experience.
The inaugural awards in 2014 saw students and staff from every higher education institution in the country share a platform to celebrate student-nominated teaching excellence.
At the time of writing, the students' unions of 33 higher education institutions have signed up to take part in the 2016 awards, incorporating Ireland's universities, institutes of technology, colleges of education and private colleges.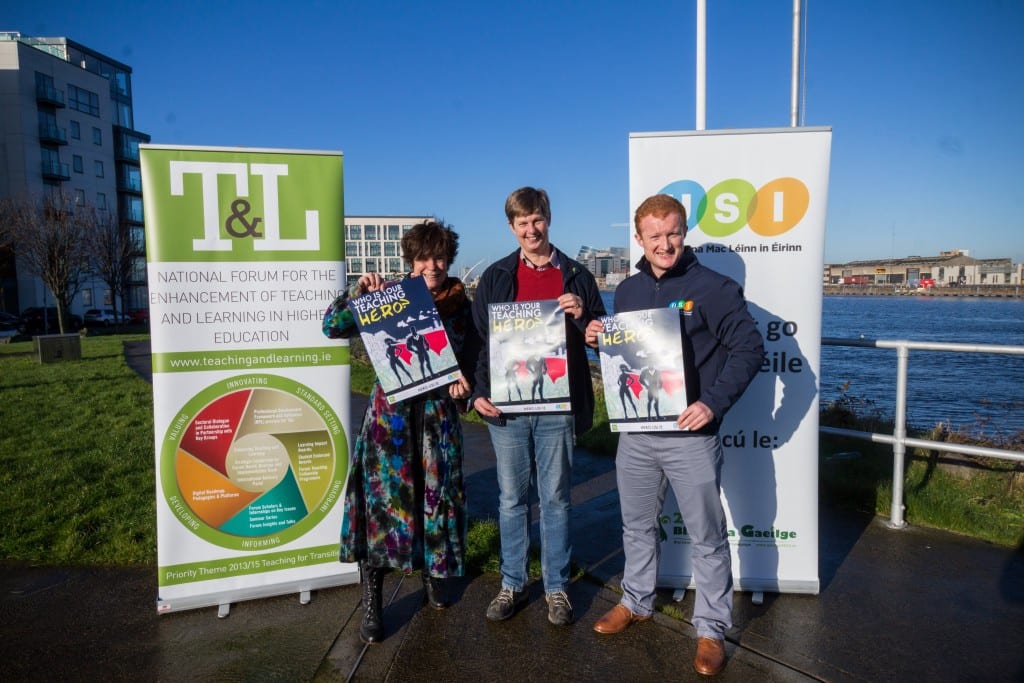 Commenting on the launch of the 2016 awards, Jack Leahy, USI Vice President for Academic Affairs & Quality Assurance, said:
We are delighted to once again partner with the National Forum for the Teaching Hero Awards. These awards present a truly unique opportunity for students to lead the conversation as to what it means to be a good teacher. The 2014 awards showed that there is a real appetite to celebrate the impact that these individuals make and I genuinely can't wait to see what comes out of the new cycle.
Dr Terry Maguire, Director of the National Forum, commented:
With the leadership of the students' unions in each of Ireland's higher education institutions, we received testimonies from thousands of higher education students during our inaugural Teaching Hero awards 2014. Their voices helped to form a key foundation in the development of a framework for professional development for Irish Higher Education teachers in the future.
Prof Sarah Moore, Chair of the National Forum, added:
Outstanding teaching often happens quietly under the radar. With all our commitments to improvement and developing the sector, the teaching hero awards are about shouting a bit louder, about drawing attention to the teachers who on a day to day basis are playing a heroic role in the lives of their students, and whose practices, habits, actions and professionalism we are committed to learning from.