Five years after the Irish people chose to repeal the eighth amendment and legalise abortion in Ireland, the Union of Students in Ireland is joining calls for urgent action to remove the barriers that many people seeking access to abortion still face.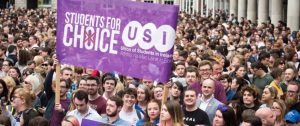 Students played a key role in the campaign to remove the eighth amendment and USI is extremely disappointed that there is still inadequate and unequal access to abortion in Ireland.
Along with others, USI is demanding that the recommendations of the independent abortion review be implemented immediately.
USI Vice President for Campaigns, Ross Boyd said: "We are calling on Government to treat abortion as a healthcare issue and not be influenced on policy by pressure from external groups. Today, we are joining in calls for the recommendations of the independent review to be implemented. Five years on from repeal, it is not okay that many women and pregnant people are being forced to travel to access terminations on medical grounds.
"Many don't have access to abortion because of where they live and we still have the three day wait period and no access to abortion after 12 weeks, or 10 weeks in the north. This is not free, safe, legal and local abortion and that is what we need."
USI is also calling for the south to follow the example of the north, where safe access zones were introduced earlier this month. Abortion should also be available at all healthcare trusts in Northern Ireland and there should be an all-island approach to abortion care for anyone who needs these vital services.