USI Launch 21 Day Energy Saving Challenge in GMIT
1 recycled tin can would save enough energy to power a TV for 3 hours.
The Union of Students in Ireland (USI) and SSE Airtricity have partnered up to challenge students to make better environmental actions over the next 21 days. The three-week event also marks the beginning of a sustainability partnership between USI and SSE Airtricity. 
The 21 Day Challenge aims to inform and empower students to make more sustainable choices in their everyday lives. Making small changes to daily habits, for example when making tea only boil the amount of water that you need. Other actions include thinking about products consumed and how they're made, or reducing consumption of resources can have a powerful impact. Whether it's choosing locally-sourced food, opting for sustainable fashion and eco-friendly beauty products, or switching off appliances when they're not needed, there are many ways to build better green habits for the future.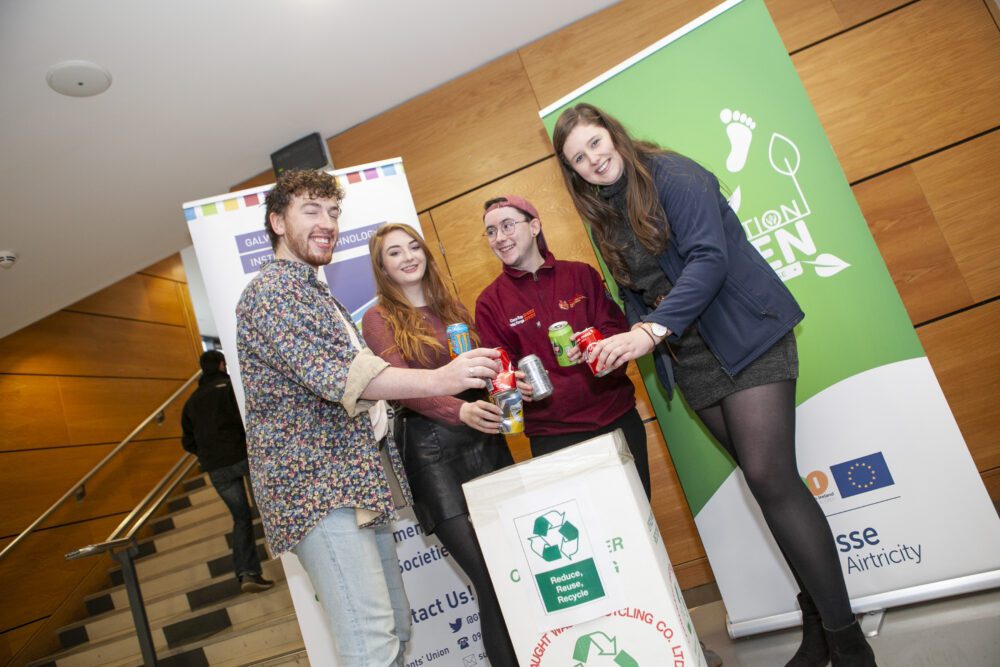 USI President, Lorna Fitzpatrick said: "The Union of Students in Ireland are delighted to announce the sustainability partnership with SSE Airtricity with the launch of the '21 Day Energy Challenge'. This challenge feeds in to our Student Switch Off Project which encourages students to save energy, tackle climate change and prevent fuel poverty. 

Throughout the 21 days, we will be providing students with everyday tips to change the way they use energy in their homes. By integrating these tips into their everyday lives, students will have the chance to both save money and prevent fuel poverty. We are so happy to have SSE Airtricity as our partners in this 21-day campaign." 

Galway City Mayor, Councillor Mike Cubbard said: "Third level students lead the way with campaigns such as this, it is inspiring for the rest of the city. I would say to students right across the city to be very conscious when looking for accommodation to check the BER rating and ensure that you are living in an adequate and safe environment. We can't have students living in houses that are riddled with mould etc., let's hold landlords to account and make sure houses are up to scratch and up to standard so that when students are going through their academic lives in a safe environment."

SSE Airtricity Managing Director, Klair Neenan said: "SSE Airtricity is delighted to partner with the Union of Students in Ireland to launch the 21 Day Challenge. Over the next three weeks, we hope students around Ireland will see the benefits of making more sustainable choices and saving energy. 

At SSE Airtricity, we believe this is Generation Green. Making small changes to our daily lives, like how we make a cup of tea, can make a big difference. As Ireland's largest supplier of 100% Green energy, we're proud to be providing the clean, renewable energy needed to create a more sustainable future for our country, whilst helping to safeguard our environment for generations to come."
It takes just 21 days to develop a habit, and small steps such as ditching unnecessary appliances, commuting smarter, adjusting the heating thermostat by one degree, or even choosing a veggie option at mealtimes can help move towards a greener lifestyle.
USI will be bringing the 21 Day Challenge to campuses around Ireland in the coming weeks and will be posting updates across social media. Anyone interested in taking on the 21 Day Challenge should follow @switchoff.ie  on Instagram and Snapchat, and @usi.ie on Facebook and Instagram & @TheUSI on Twitter.  
Tips for participation in the 21 Day Challenge:
Brew Smart

: The average Irish person consumes 1,460 cups of tea per year- that's a lot of boiling! Make sure you always boil just the amount of water you need to save energy.

Adjust your thermostats; Simply reducing your thermostat by one degree can make a difference. Turn the thermostat for your living areas down to 20°C living areas and hallways and bedrooms to 15-18°C to save up to 10% on your energy bills per year.

Make sure you separate your recyclables; recycling an aluminium container saves 95% of the energy taken to make a new one and a tonne of recycled paper saves 17 trees! 

Get your recycling in order! 

Don't leave the fridge door open for too long while getting food. For every 10–20 seconds the door is open it takes 45 minutes for the fridge to cool down to its original temperature. 

Limit Midnight Snacking! 

By eating veggie two days a week you can reduce your food chain emissions by nearly 30%. The effect of one kilo of beef on the environment is equivalent to that of seven litres of petroleum so it pays to cut down and adopt a more veggie heavy diet. 

Go Veggie! 

Showers use less water than baths with the average seven-minute shower using around 49 litres of hot water vs 80 litres for a bath. You can still shorten down your shower by just one minute a day to save 2,500 litres per year. 

Shower Shorter! 

There are plenty of eco-labelled soaps, shampoos and conditioners but it's harder to find green cosmetics. At a minimum try to find products with the least chemicals. 

Read your beauty labels! 

Invest in a beaker or Keep Cup instead of buying bottled water. Currently only 40% of plastic is recycled in Ireland. Use a water filter to purify tap water instead of buying bottles. 

Invest in sustainable plastics!