USI has teamed up with Meteor to offer one student the opportunity to win Apple's latest phone – the iPhone 5.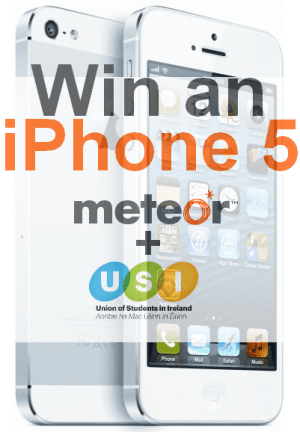 Update:  Winner Announced.
The winner of the USI Meteor Competition to win an iPhone 5 is Stephen Murphy from Maynooth Students' Union.  The phone is on the way!
CNET.com calls the iPhone 5 "The iPhone we've always wanted" and adds: "It's absolutely the best iPhone to date, and it easily secures its place in the top tier of the smartphone universe."
We have just one iPhone 5 to give away to a lucky USI member, who must be a registered student at a USI member students' union.
But in order to win this prize you'll need to do two things for us.
What do I have to do?
First:  Add your information into the box below
Second: Share this page on Facebook and like the USI Facebook page to give other students the opportunity to enter the competition and connect with Ireland's national student representative organisation.
Third: Await the call on your old phone to tell you you've won.
Ts&Cs
If you don't like the Terms and Conditions below, please don't enter the competition.
We like Meteor's deals for students and we want to make students aware of them.  They aren't seeking your details from us and we won't give them away.  We won't share your details with any company, and your details stored in our system will be deleted soon after when we've made the draw.
We'll draw one individual entry out of the database of registered entries using a random number generator at Random.org and contact that individual to ensure that: a) they are an eligible student and b) they want the prize.  Then we'll arrange for the prize to either be collected at USI HQ in Dublin or couriered to a member Students' Union.  Then we'll announce the winner on our Facebook and Twitter account.
USI officers, sabbatical officers in member unions, USI committee members and staff are not eligible to enter the competition. The competition is open only to ordinary members of USI.