Ahead of tomorrow's USI Student Summit 2014, we decided to ask some of the participating startups what life as a young startup is really like?
First up (drumroll please) we have the tremendous triple act, the McGinn sisters; Jennie, Sarah and Grace.
With a myriad of experience in the form of innovative digital business ventures (fashion blogging "What Will I Wear Today?" and the online shoppable magazine Prowlster.com which was acquired by new media group Sweatshop) the McGinn sisters are a force to be reckoned with. The team have blended the right mix of straight talking content with fashion cat-walking and the fast paced digital world. Not an easy task but one they've managed to keep adapting with, ahead of the online consumer trends.
Their latest venture is Opsh. Opsh is the third way to shop online. It is the Amazon of the High Street, the next generation of Asos – with one account and one checkout, Opsh is an easier, faster, simpler way to get what you need and stay bang on trend. They are recreating the High Street online, but going one better. Their powerful product aggregator means customers get to create their own personalized High Street, full of their own shops, styles, trends and takes. They are not another style app, not another listing site, they are the new way to shop online. If Asos is like walking into TK Maxx, then Opsh is like walking down your own Fifth Avenue.
They were recently featured in the Irish Independent's "Top 30 Under 30" entrepreneurs and won a coveted spot at the Dublin Web Summit 2014.
"We're risking everything to stay here and jump-start the economy. Now all we have to do is convince everyone else to jump with us".
I know what you're all thinking. Ah, life as a young start-up in Dublin: it's all wall-to-wall ping-pong tables, snazzy offices and constant networking drinks with millionaire venture capitalists aboard private planes. That or five nerds in tracksuit pants manically coding in a damp basement somewhere while their boss scrambles to secure funding and keep the lights on.
But screw the Hollywood clichés for a minute. The real truth of start-up life lies somewhere in between. Yes, there's plenty of coffee-fueled brainstorming sessions where we plan world domination; there's also late nights, almost-missed deadlines and panicky last-minute sales pitches. We're a five-person team, mostly in their twenties, writing and blogging and designing a website that's going to revolutionise the world of online shopping. Every single day is different.
Yes, our (relatively) young age is one great benefit; it means our stamina for the manic days is that little bit higher (plus, no-one ever has to leave early to pick up the kids from school). But it can be a drawback at times. We have to fight that little bit harder to be heard, and some of the more cautious business types can be a bit dismissive once we walk in the door. But mainly, it's made us stronger as a company. After all, we're not the generation who messed things up; we're the guys to fix everything. We're risking everything to stay here and jump-start the economy. Now all we have to do is convince everyone else to jump with us.
Next up is young tech savvy entrepreneur Richard Whelan: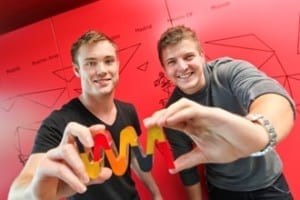 Popdeem is a social marketing platform that allows brands to reward their customers for sharing local experiences. The system allows marketers to identify and activate their most influential customers to spark peer-to-peer conversation and drive word-of-mouth (WOM) marketing. Brands can avail of their own custom branded social rewards app or integrate Popdeem into existing apps using the Popdeem Mobile SDK.
In 2013, Popdeem launched their own local rewards app with 15 local businesses in Dublin. The company was founded by Richard Whelan (CEO) and Gavin Hayes (COO) and is backed by leading Irish investors including Telefonica and Enterprise Ireland.
Richard is a UCD Commerce graduate (2011). He was recently featured in the Irish Independent's "Top 30 Under 30" entrepreneurs. During his time in University, Richard won several prestigious business awards including 1st place in the UCD apprentice competition and 1st place in the national PWC/AIESEC Young Business Leaders of Tomorrow competition.
"I think it's essential to have co-founder(s) you can trust and rely on. There is a lot of ups and downs (emotional rollercoaster!) so it's important to have someone you can lean on".
Richard and a few friends set up the first company StudyBuddy during University in 2011. StudyBuddy was a desktop application to block internet distractions (essentially you could completely block yourself off Facebook for a few hours so it didn't distract you!).
After we received our first private investment from the NDRC LaunchPad, we were brought onto a 3 month programme where we got mentorship in finance, software development, marketing, sales, etc. Most importantly we shared offices with a tonne of other amazing startups like Soundwave, Bizimply and BuildingEye. We were by far the youngest team on the programme so it was great to leverage off the experience of the other teams.
We decided to leave StudyBuddy and set up a new company (Popdeem is summer of 2012). The second time around we did everything a lot more efficiently. We had learned a lot from doing StudyBuddy which helped. In September 2012 we received €105,000 investment from Telefonica and Enterprise Ireland. We used this funding to build and deploy our own local rewards app with 15 local businesses in Dublin.
Local businesses used the platform to reward customers for sharing in-store experiences. The more influential the customer the bigger the reward they could earn. We built successful case studies from this launch and have brought on new investors as a result.
We're now talking to global brands about integrating the technology behind their existing platforms. Our team is currently 4 people and this is set to grow to 8 before the end of the year. The support system in Ireland is incredible. Everybody wants to help out. Not a dog eat dog environment at all so just ask and you will receive! Persistence is vital. There is a tonne of ups and downs so you really need to be determined if you want to build a startup of your own. Sounds like a standard thing to say but it's so important!
Follow the conversation using #studentsummit14 on Twitter.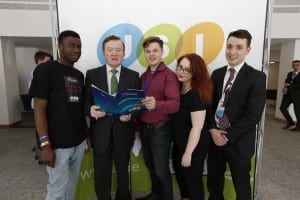 Student Entrepreneurs Invade Dublin Castle for the USI Student Summit 2014
Last Tuesday evening April 8th, student entrepreneurs, Ireland's best start-ups and innovative business entrepreneurs converged on the Print Works Conference Centre, Dublin Castle for the USI (Union of Students in Ireland) Student Summit 2014.
At the USI Student Summit 2014 there were over 30 start-ups from all over the country, state advisory bodies to advise the young entrepreneurs of tomorrow, inspirational speakers who shared their stories and empowering workshops to prepare students for the entrepreneur environment. The USI Student Summit 2014 is focused on creating a sense of community among young student entrepreneurs in Ireland, where they can come and learn about starting their trade, listen to people who have been successful in their field and get advice on making their ideas come to life.
Some of the innovative companies that took part in the USI Student Summit 2014; LinkedIn, Storyful, Simply Zesty, Enterprise Ireland, Hays Recruitment and Ustart DCU. Key speakers include Niall Harbison (Founder of Simply Zesty), Richie Whelan (Founder of Popdeem),Malachy Browne (Storyful), Caroline Downey (MD of Olympia & Ambassador) and Sharon McCooey (Director of Linkedln Ireland), Sean Coughlin (Social Entrepreneurs Ireland) Chris Gordon (Social Enterprise) and Samantha Kelly (Founder of Irishbizparty). John Perry, the Minister for Small Business showed his support by attending the USI Student Summit 2014.
Amongst the Irish start-ups that took part in Student Summit 2014 were: Popdeem, Buzzoo, Fonesense, Jobbio, Boozedoc, Inner Party, Dub Starts, Hot House, Tipple.me, OPSH, Dub Net, Socialmedia.ie, Tree House, Run Last Man.com, Createmedia.ie and City Hook.
USI President Joe O'Connor said:
"We are proud to host an event dedicated to student enterprise in such a fantastic venue. The history of Dublin Castle provides the perfect backdrop for young entrepreneurial minds to meet with experienced and successful businesses from all over the country.
This event is the first of its kind and provides an incredible opportunity for Irish student entrepreneurs to hear from inspirational speakers, learn from Ireland's most innovative start-up companies, and network with entrepreneurs. We hope that this is a USI event that continues long into the future".
USI VP Campaign Officer Patrick Guiney said:
"The Summit will provide a networking opportunity for students, who will be able to hear from fresh and innovative start-ups, as well as major multi-nationals, giving them the best feedback and advice available. The event has been sold out for two weeks and we'll be expecting over 600 students.
The Summit will appeal to students at any level of under-graduate or post-graduate study who have an interest in starting their own business or simply finding out about how entrepreneurship can work for them".