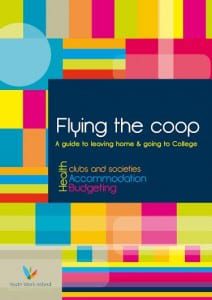 USI Supports 'Flying the Coop'
'Prepare now! This is the advice being given by Youth Work Ireland, Roscommon /N.E.Galway  to Leaving Certificate students and their parents today as they launch their 18th edition of 'Flying the Coop'  publication. This colourful pocket sized booklet is an essential guide for many of the issues facing students leaving home and going to College for the first time in September.
Flying the Coop provides information and guidance on all the relevant areas pivotal to moving to college and adjusting to living alone for the first time. Topics covered include: how to deal with the emotional adjustment; the physical move and finding accommodation; knowing your tenants rights; surviving the money woes with proper budgeting and understanding the costs of college; who can provide help when things aren't always exciting and new.
Nicola Moran, Youth Information Co-ordinator responsible for Flying the Coop says 'the big hype about going to college is usually in  August when CAO offers are made. While this is a hugely important and busy time, it is really prudent to start planning now before the Leaving Certificate exams even start. Forward thinking Guidance Counsellors and local Parent's Councils are keen to help students prepare in plenty of time, so we felt this year we should launch 'Flying the Coop' in May instead of August.'
Flying the Coop includes valuable contributions and inputs from the Union of Students in Ireland (USI) and many of their Student's Union Officers. It  also includes top tips from current Third Level  students and from front line professional College Officers, which is part of its unique quality.
Denise McCarthy, USI Deputy President /VP Welfare commented: 'Supporting young people by giving them the information they need as they leave secondary school to enter Third level is so important. We are delighted to support and contribute to Flying the Coop, which is filled with information, advice and serves as essential reading for school leavers'.
The need to prepare is so important. There are many locations where finding accommodation is going to be difficult, this is clear by  rental costs snapshot provided by Ronan Lyons; economist for Daft.ie. Dublin and even Maynooth for example are competitive areas for accommodation hunting.  Speaking to College accommodation Officers well in advance is going to be one of the most important conversations students and parents will have. Saving money over the summer is going to be very necessary. The costs of college provided by DCU Student's Advice Centre indicate   €6,984-€7,784 for 8 months, compared to the standard grant of €3,025.
Money Advice & Budgeting Service (MABs) contribute to the budgeting section. Their advice is particularly important given the costs of going to college and the current economic climate Michael Culloty, Social Policy NDO MABS states: " The costs of college often comes as a shock to students and parents alike so it's important to be well prepared. Flying the coop is a very useful publication and full of practical information on costs and budgeting for college, all of which will help students to plan early"
So planning and preparation now is most definitely the key to avoiding some of the  stress detracting from the excitement when the CAO offer drops through the letterbox!
Notes:
Flying the Coop is available from Youth Work Ireland, Roscommon/N.E. Galway's Youth Information centre, Castle Street Roscommon for .50c plus p&p. Tel: 090 6625395 E: youthinfo@roscommonyouth.ie.
For more information, please contact:
Nicola Moran (Youth Information Co-ordinator) T: 086 8169132, E: nicolamoran@roscommonyouth.ie
Denise McCarthy (USI Deputy President/VP Welfare) T: 087 2991265, E: denise.mccarthy@usi.ie