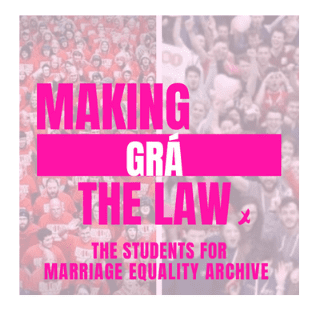 The Students for Marriage Equality Archive // Cartlann Mhic Lénn ar son an Chomhionannas Pósta
It has long been recognised that the student movement has been a vital and pivotal force for social justice in Ireland. When it came to the Marriage Equality Referendum of 2015, students and student officers understood that this was a once in a lifetime opportunity.
There are a million different ways you could tell the story of Marriage Equality in Ireland. When reflecting on the five year passing of the referendum, we knew the student movement had some incredible stories to share.
So we put together this archive to tell the story of  student activists who traversed the country to change the hearts and minds of the Irish population. This is the story of the 30,000 young people who registered to vote ahead of the referendum, recognising their chance to make a better Ireland for the future. It's the story of the young LGBT+ couples who came forward and publicly shared stories of their love. It's the story of the students and officers who gave it everything they had to make grá the law.
Timeline 
Early involvement
1977: The then President of USI, Eamon Gilmore, calls for Marriage Equality
1992: Pink Training is established.
Founded in 1992 with a small group of LGBT+ students gather for an event that will become Europe's largest LGBT+ conference.
Summer 2012
At Students' Union Training, the national training for full time elected officers, USI launches its campaign for Marriage Equality

July 2012
UCD Students' Union and Union Students of Ireland (USI) staged a mock same-sex wedding ceremony outside Department of the Taoiseach to call for full marriage equality for gay couples ahead of the March for Marriage Equality protest march on August 12th. Pictured was USI President John Logue officiating the ceremony between the happy couple Rachel Breslin and Daisy Onubogu with the support of representatives of UCD Students' Union and LGBT youth activists.
2013
USI makes a submission to the Constitutional Convention which will see 79% of its members vote for the Government to hold a referendum on the issue of Marriage Equality.
USI passes its 'Towards Marriage Equality 2015' document at Congress 2013.
April 2014
The students for Marriage Equality Strategy is passed at USI National Congress
November 2014
As Vice President for Equality and Citizenship, Annie Hoey ensures Pink Training 2014 is a rallying call to action for the 300+ LGBTQ+ attendees. A Marriage Equality bootcamp if you will. Complacency is flagged as the main enemy.

Students talk about the upcoming referendum at Pink Training 2014…
https://www.facebook.com/MakeGraTheLaw/videos/374577696048083/?vh=e
December 2014
President Laura Harmon writes of a New year's resolution for the Student Movement: Winning Marriage Equality…
January 2015
USI officially launches its Students for Marriage Equality Campaign…
February 2015
Students' Unions across the country set up Marriage Equality taskforces. USI launches a series of blogposts from contributors about why they are voting yes. Students join their local Yes equality groups and canvass in their droves.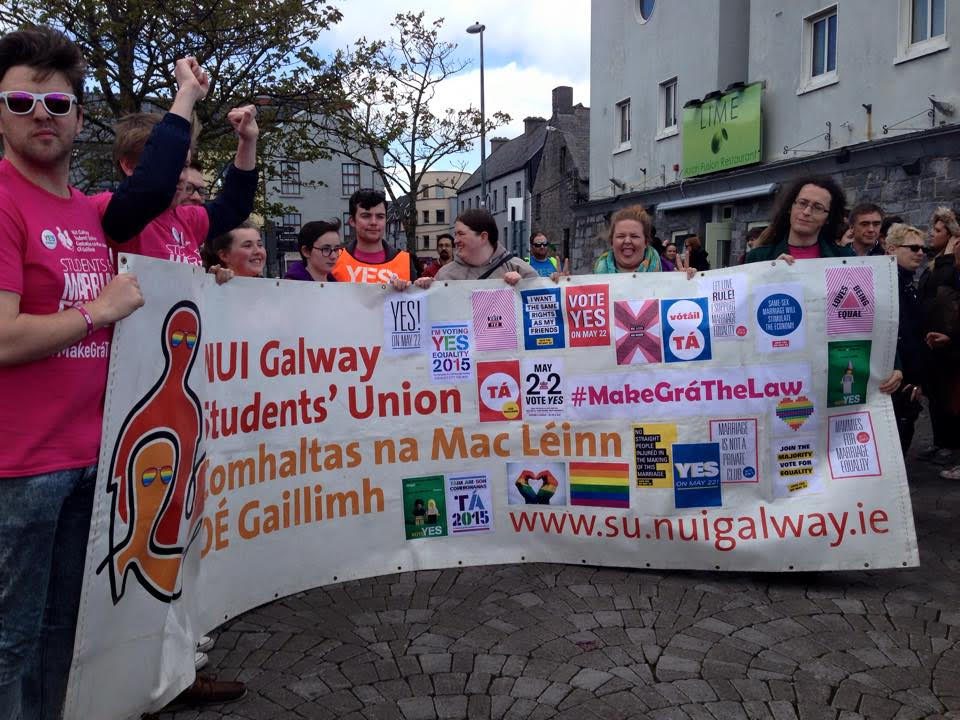 Students from NUI Galway Students' Union canvass
March 2015
Trinity launches its 'Ring your granny' campaign encouraging young people to call older relatives about the vote. It is quickly picked up by national media and other Students' Unions start to roll out the campaign.
USI National Congress happens amidst the countdown to the vote. President Laura Harmon documents some of the heartfelt and heartbreaking stories from aCongress discussion on Marriage Equality in an Irish Times article:
https://www.irishtimes.com/opinion/yes-to-marriage-equality-would-show-that-lgbt-lives-are-valued-1.2157593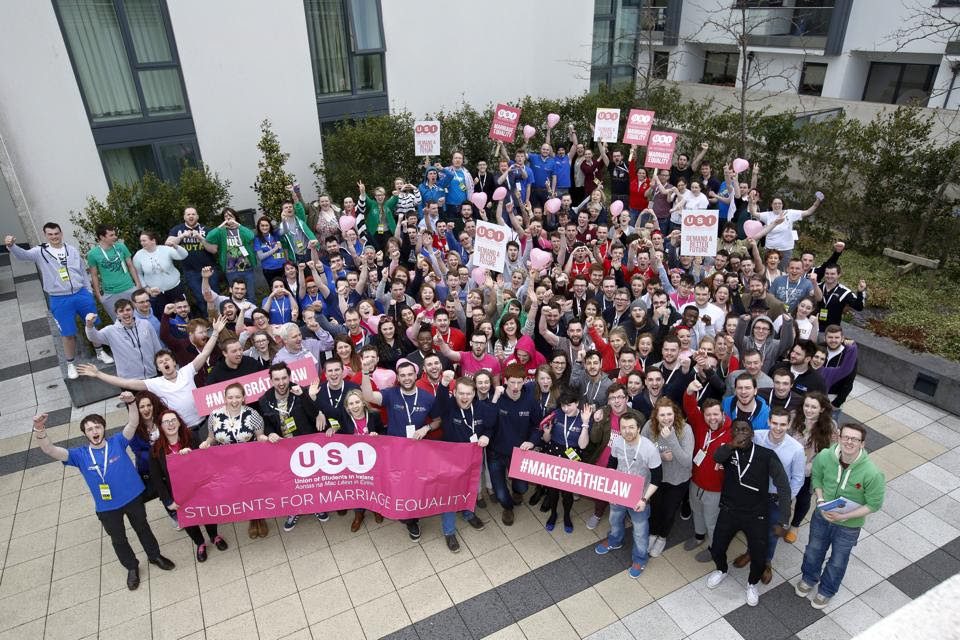 Photocall from USI congress 2015
USI rolls out canvassing trainings in collaboration with Students' Unions across the country.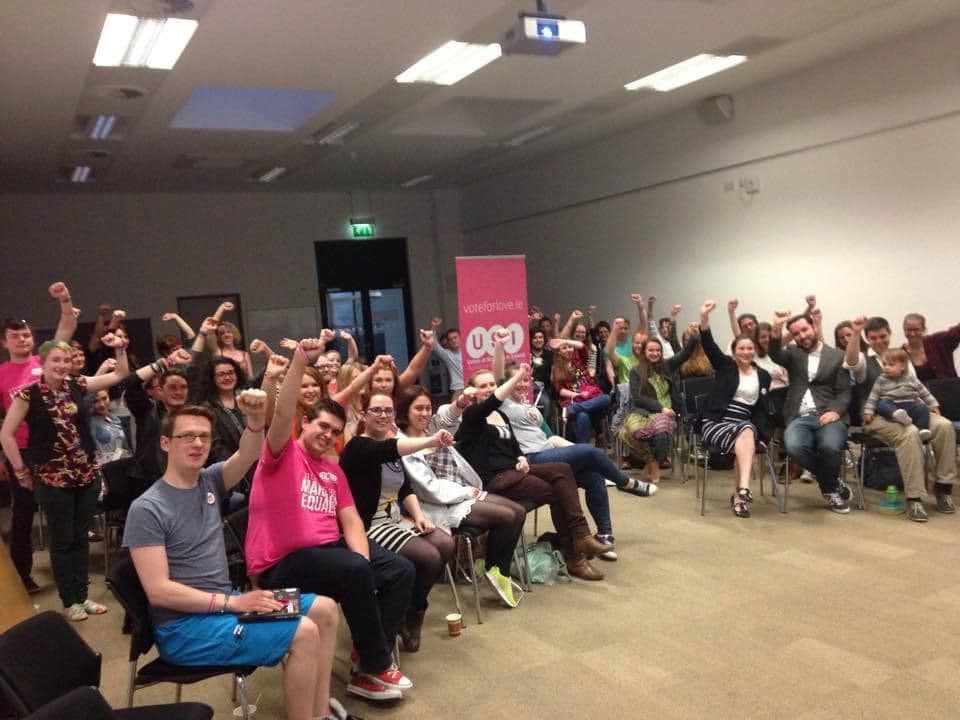 Canvassing training in NUI Galway 
Students' Unions successfully lobby to have exams moved to allow as much opportunity to vote as possible.
https://www.independent.ie/irish-news/politics/dcu-students-given-time-to-vote-in-marriage-referendum-31071947.html?fbclid=IwAR1cpa8NwfrjjJQ2PQo_asqx3jrCNhlyVwBFx20SxGUVSfYLlB3D6oWVCCg
April 2015
Under the leadership of USI President Laura Harmon and Vice President 540 people gather in a rainy Dublin one month ahead of the Marriage Equality referendum to break the world record for the largest human heart.
Video footage of the day can be seen here: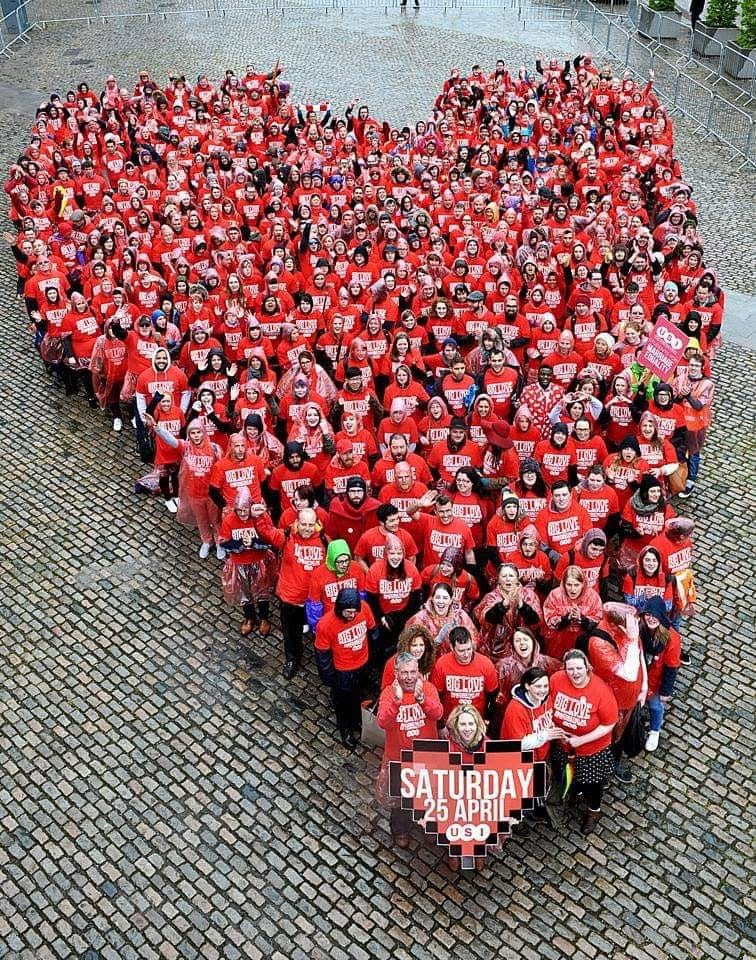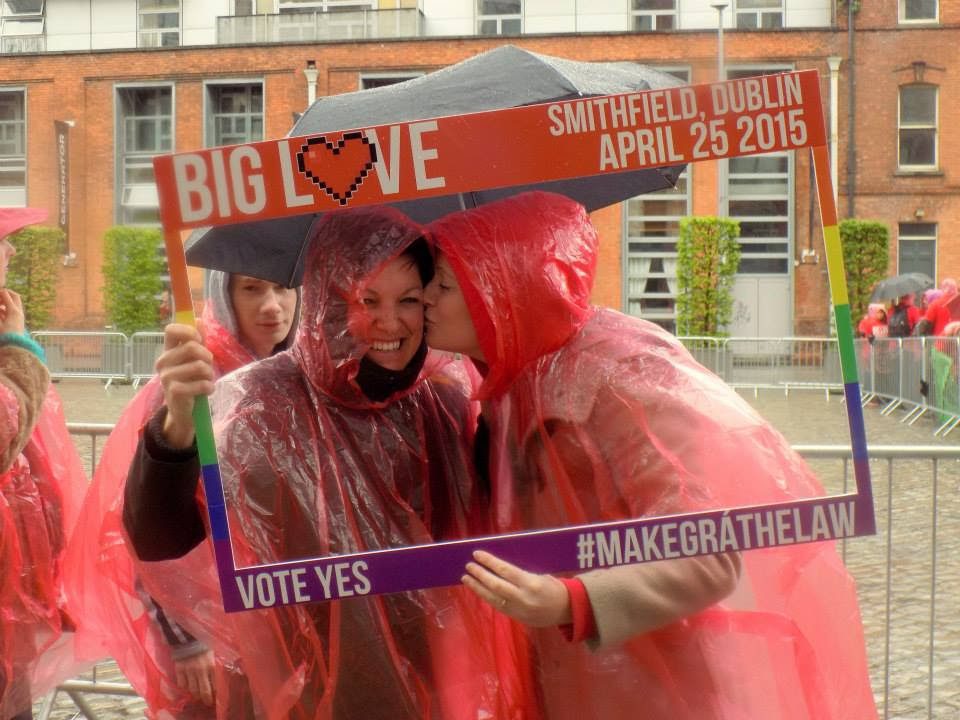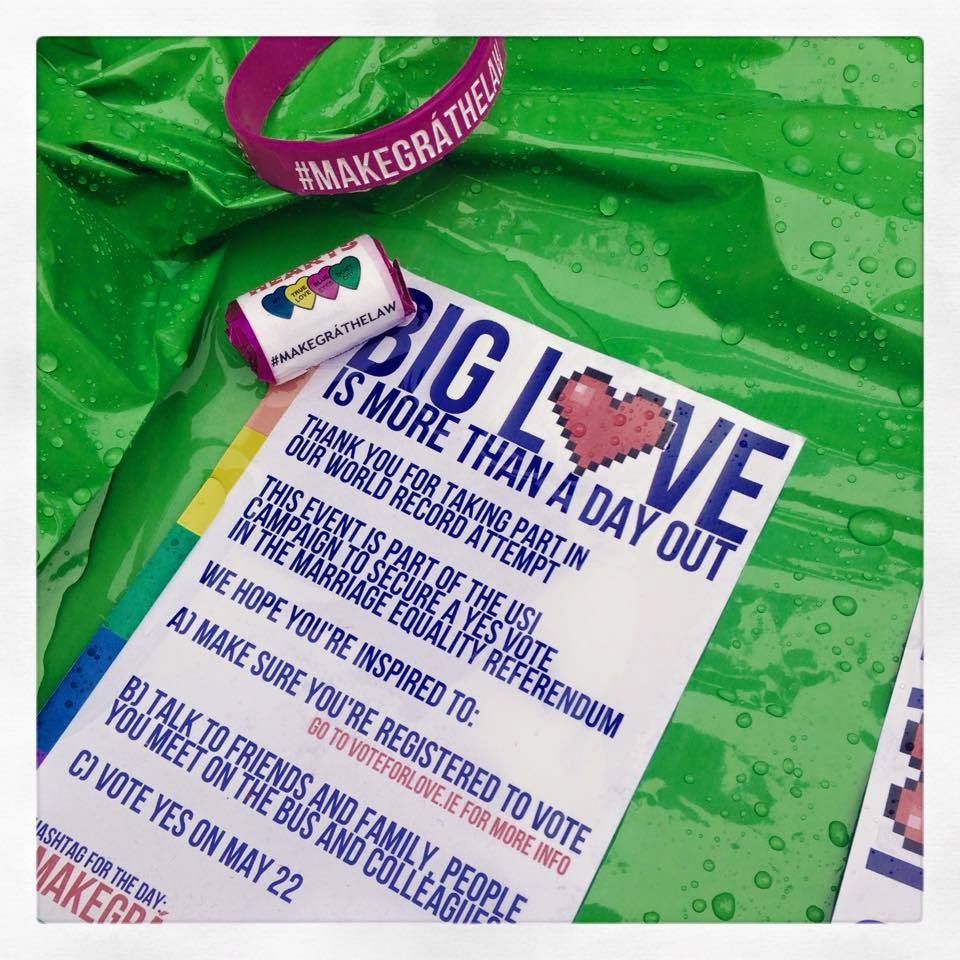 Photos from the Big Love Event
May 2015 
USI announces that as a result of extensive voter registration drives in colleges across the country ahead of the referendum, that 27,633 students have registered to vote!
USI launches the VoterMotor Campaign, aimed at getting students thinking about how they are going to get to the polling station and if they can give others a lift.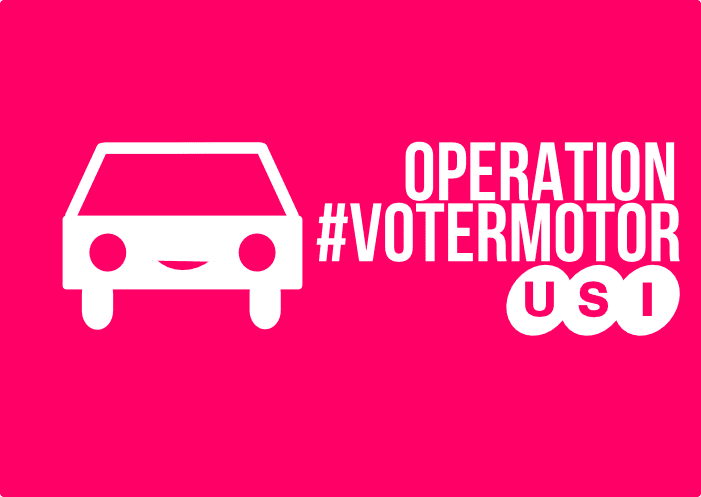 A joint initiative with SIPTU sees the Students for Marriage Equality banner hang proudly and prominently from Liberty Hall.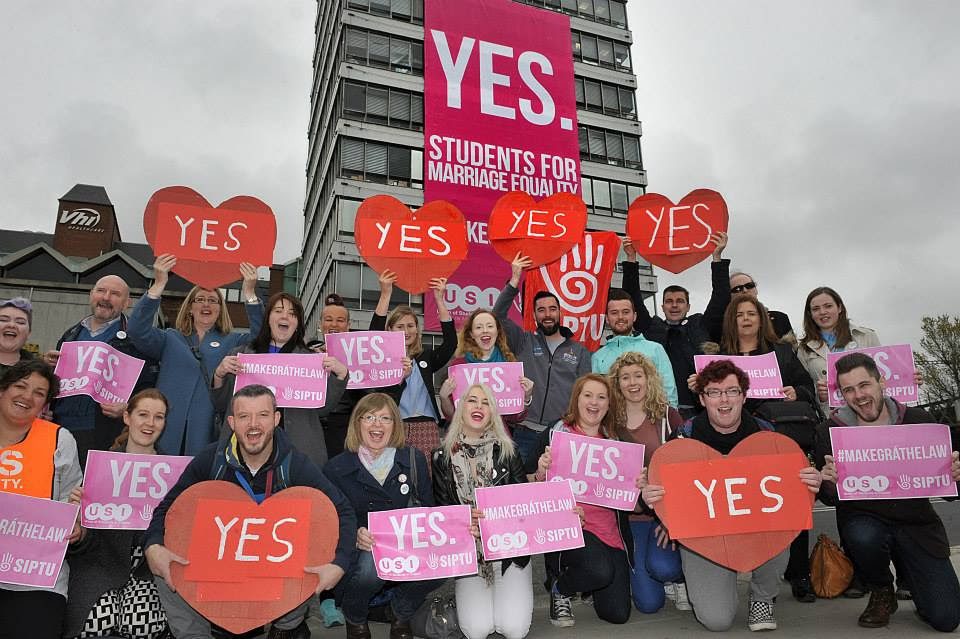 Students' Unions from across the country work tirelessly to show support on their campuses.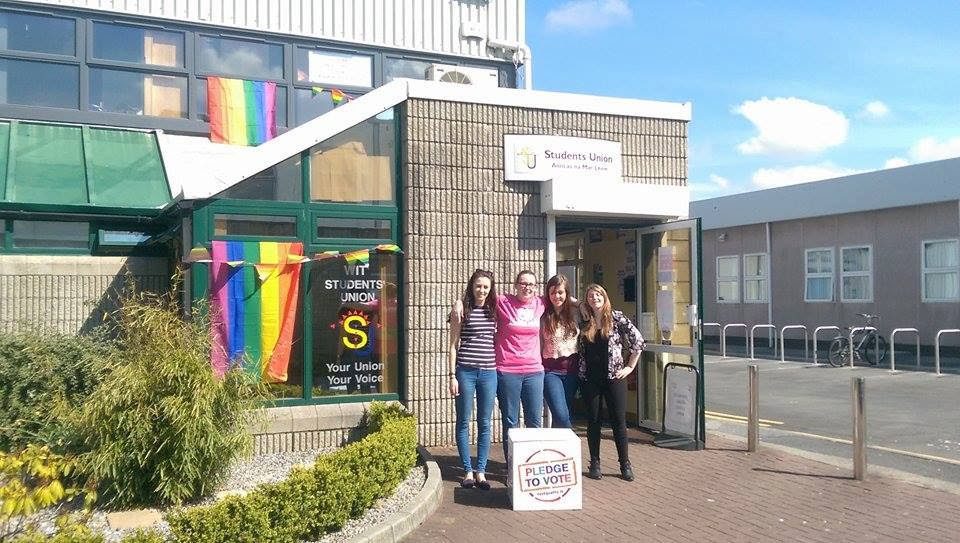 WITSU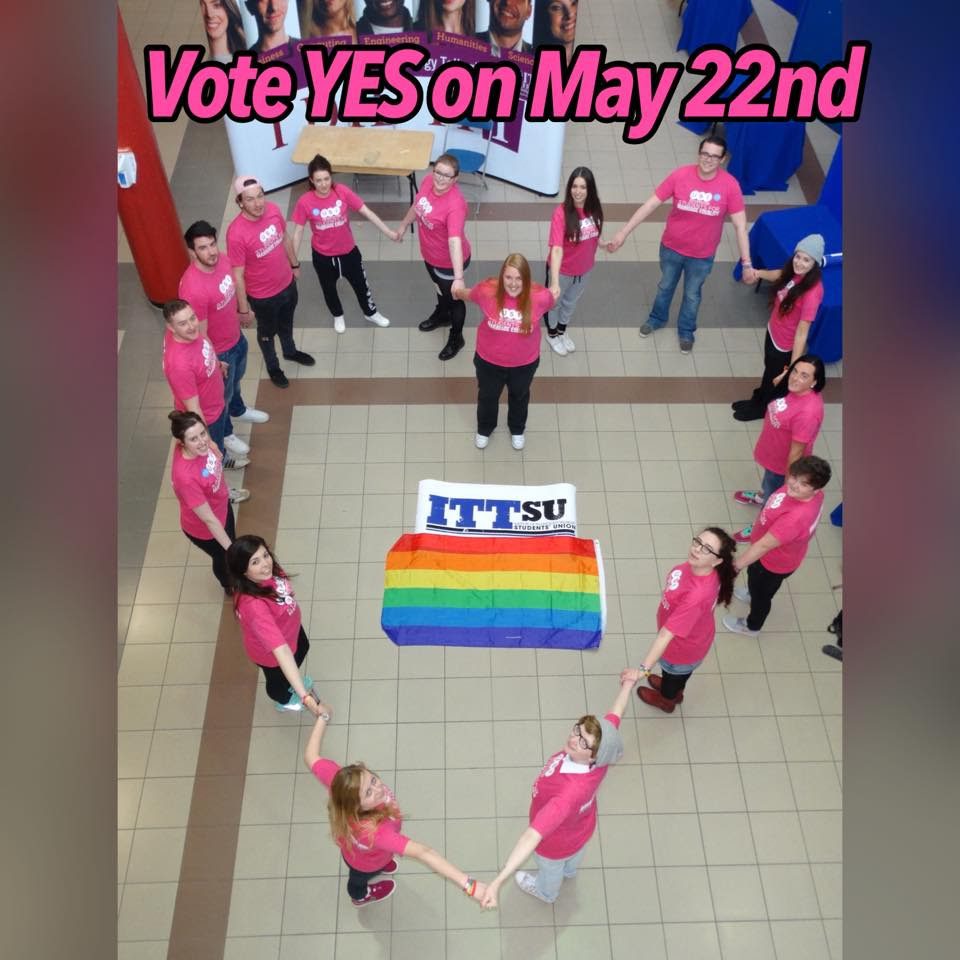 IT Tallaght SU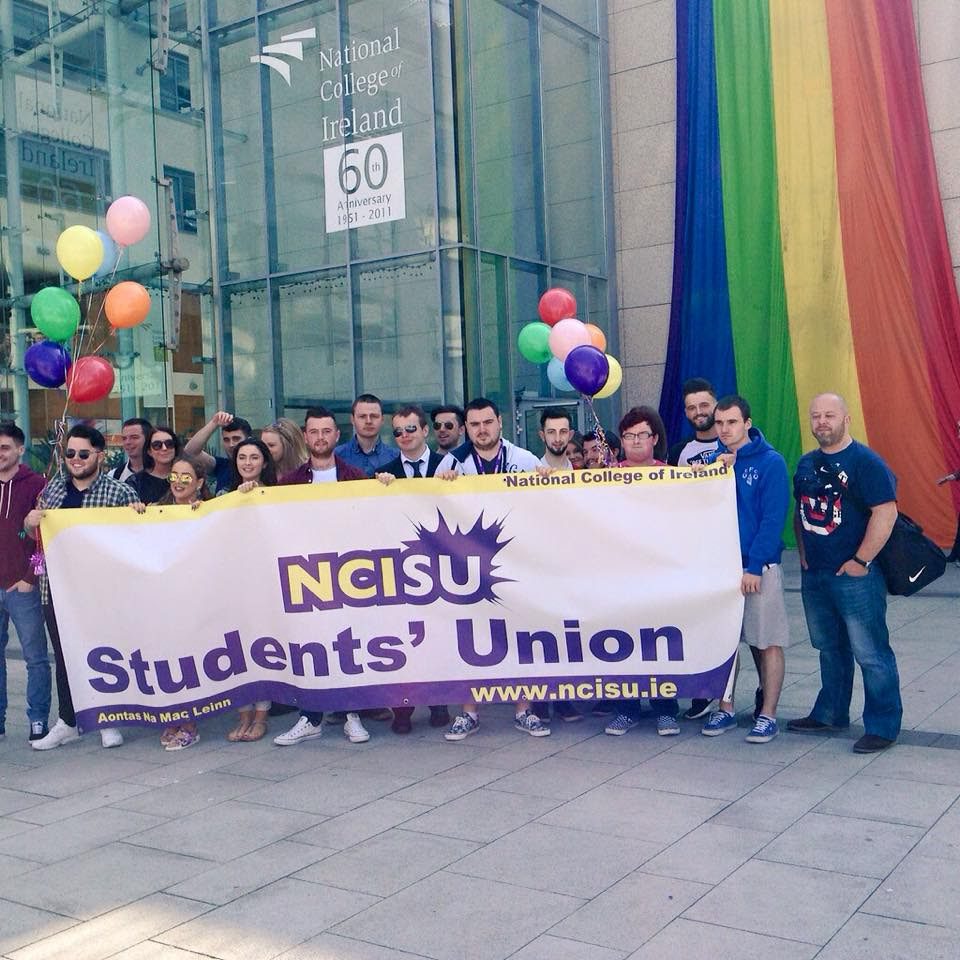 NCI SU
May 22, 2015
Marriage Equality passes with a 62.07% majority.
The Student movement celebrates!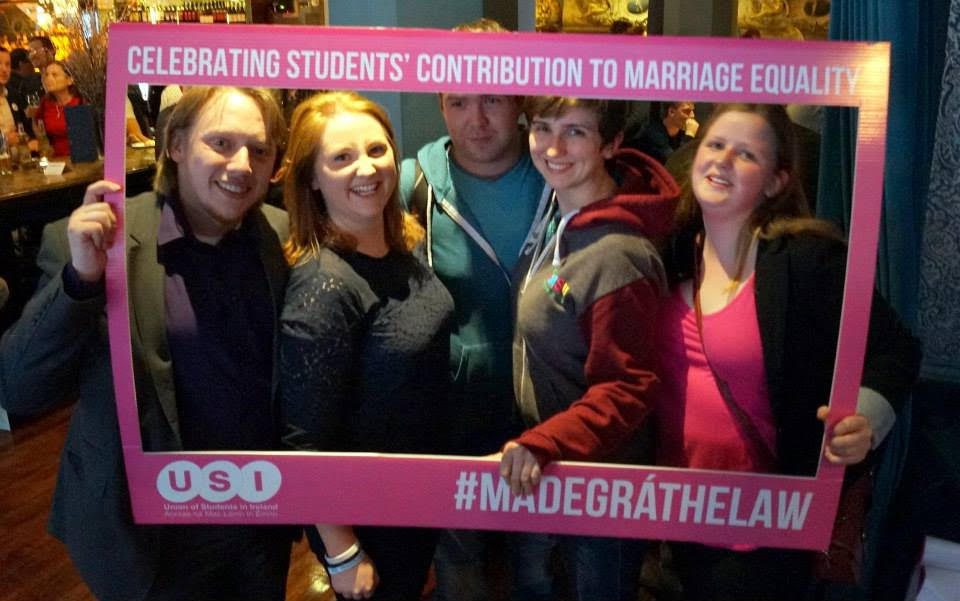 Students celebrate the passing of Marriage Equality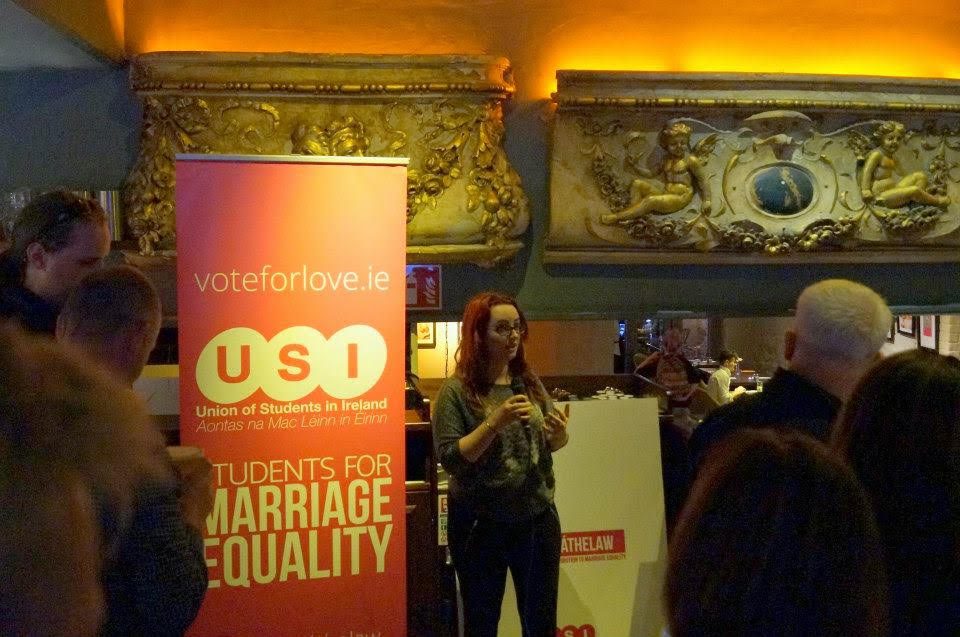 Speech from then Vice President for Equality and Citizenship Annie Hoey at the celebrations
The University times writes of the student triumph:
http://www.universitytimes.ie/2015/05/students-played-a-decisive-role-in-achieving-marriage-equality-usi-hears/?fbclid=IwAR2v872–SkuFox0L2wWykg0aSZvYOy0Sf8ESezPJ4oXYqidCB8LayP-yf4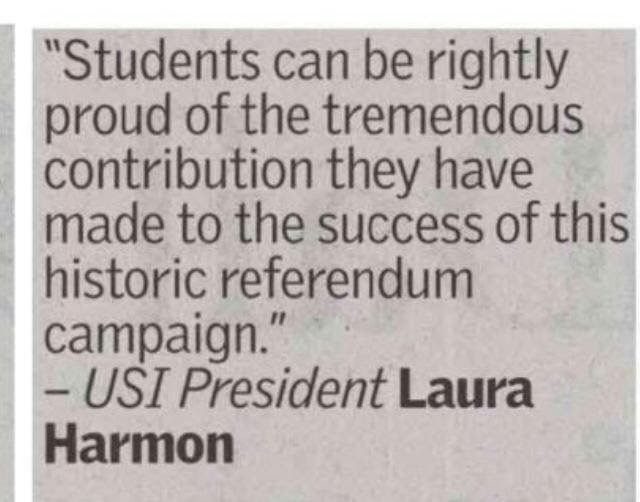 June 2015 
USI continues to fight with NUS-USI for marriage Equality in the North. It will be another 4 years because Marriage Equality finally becomes legal in Northern Ireland.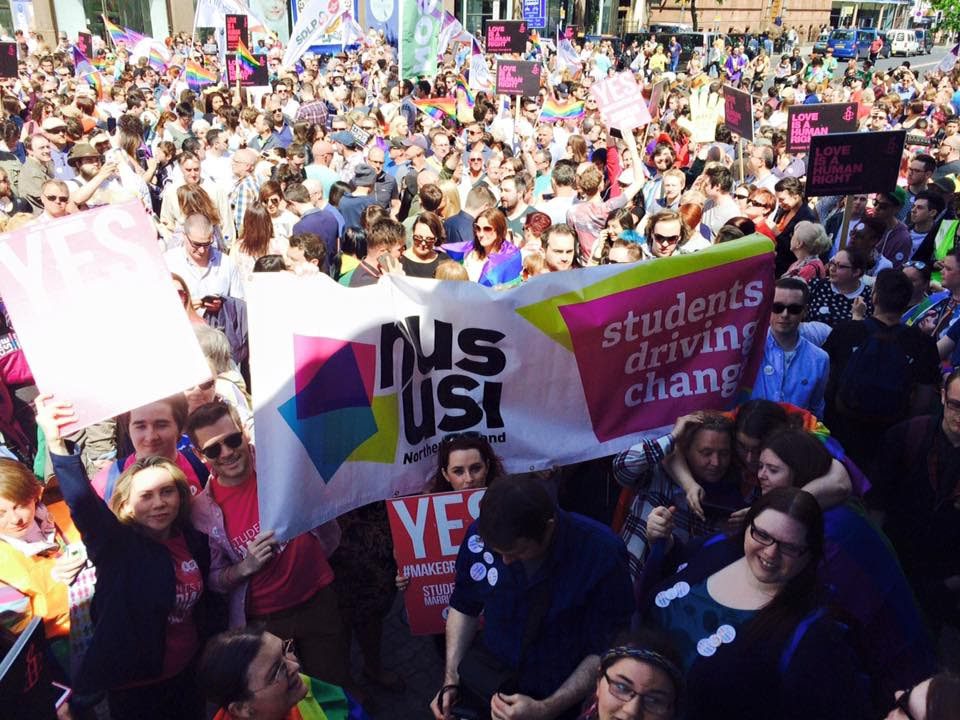 March for Marriage 2015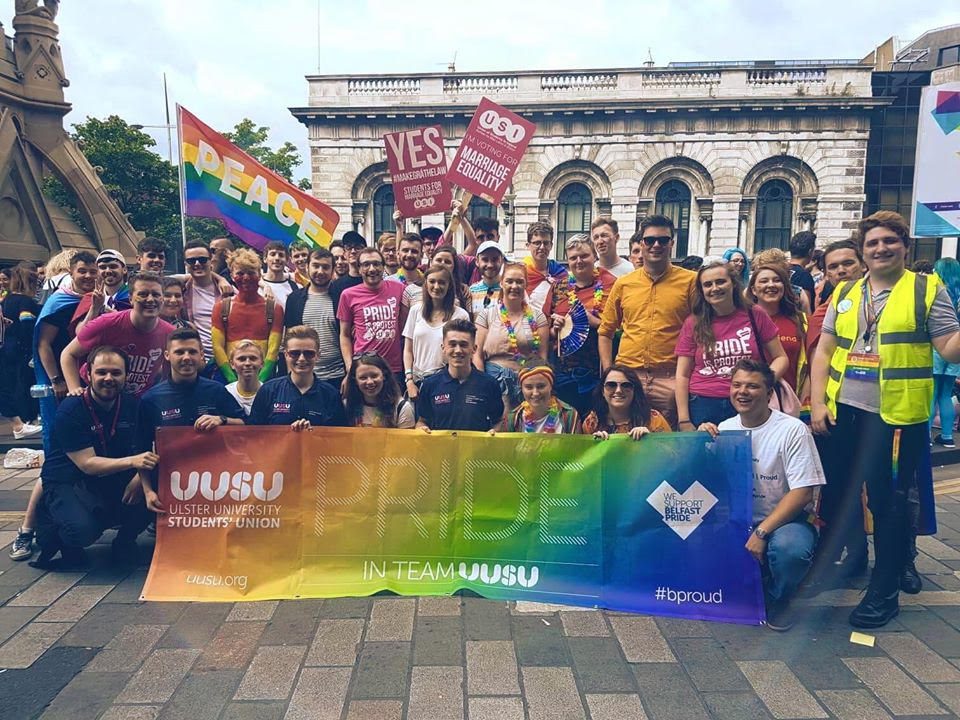 The Student Movement at Belfast Pride 2018
Reflection… 
From the President of the day, Laura Harmon: 
"Campaigning for marriage equality during my time in the student movement was and will always be one of the greatest honours and experiences of my life. Like so many social equality issues, the marriage equality referendum would not have been won if it had not been for the tireless graft and energy over many years from campaigners in the Union of Students in Ireland. As president of USI in 2014/2015, I was led by the enthusiasm, dedication and creativity of students' union officers all across the island. USI directly registered 30,000 students to vote and mobilised tens of thousands of students to turn out to vote, canvass their families and tell their stories. USI has always been a leader when it comes to LGBTQ rights and campaigned for gender recognition and marriage equality in the north in recent years also. There is still so much to document about the impact that USI had and continues to have on equality in Ireland and this archive is a great way to document some of this work."
This archive is an ongoing project. If you have memories, photos or videos from your time as a student or a student officer during the Marriage Equality referendum, please get in touch. You can email equality@usi.ie and we will do our best to include it!