The Union of Students in Ireland and Fine Gael's Junior Minister for Education, Damien English, met in Leinster House yesterday to discuss the student accommodation crisis and the impact the Budget will have on financially struggling students across Ireland.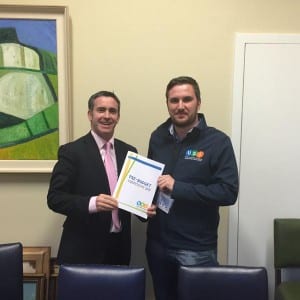 Fine Gael's Junior Minister for Education, Damien English, and USI president, Kevin Donoghue, at Leinster House
"There is 40% less space available to students than there was last year." USI president Kevin Donoghue said "This, along with the fact that rent has risen nationally by 8.2% over the last twelve months, forces students to spend multiple nights sleeping on couches or in hostels. There is a real danger that this will negatively impact on retention rates, health and the education of students – and it requires immediate attention from the Government."
Fine Gael's Damien English said the lack of funding due to the inherited budget is a problem, but supported the USI pre-budget 2015 objectives. He emphasised that executing the objectives, such as increasing student grants and accommodation are long-term goals, and not solvable immediately.
Speaking about the meeting, USI President Kevin Donoghue said:
"The cost of college is €11,000 per year, which means that college courses can cost between €33,000 and €77,000. We are calling on the government to raise grants, reduce the registration fee of €3,000 and address the student accommodation crisis."
As a short-term solution, in 2014 the USI launched the 'Homes for Study' campaign which includes the website homes.usi.ie. This allows homeowners to list their spare rooms and their conditions with the objective of providing students with contacts for those willing to help. USI also continues to promote the 'Rent a Room Relief' Scheme to homeowners where a room can be rented for up to €12,000 tax free.