General:
2,027 students from Maynooth University (MSU) voted to remain with the Union of Students in Ireland (USI) with a total of 2,142 votes cast. Polls opened at 9am on Wednesday the 8th of March and closed at 6pm on March 8th. Final result was 95.7% of MSU voters said yes to USI. Read out statement here.
USI Officer Board elections have begun with local Students' Unions hustings happening all over Ireland. For information on the final list of candidates, click here.
USI held a Student Summit pitch competition with Bank of Ireland in Galway with student start-up Make A Mark going to the final round to win €3,000 on March 21st.
Policy and Campaigns:
USI supported the new HSE backed campaign around alcohol harm reduction which will be launched next week. Find out more information on www.askaboutalcohol.ie.
The Vice President for Equality & Citizenship chaired a panel discussion on Repeal the 8th in Maynooth University on Thursday 9th of March, with panelists Anna Cosgrave, Tara Flynn, James Kavanagh and Clare Rose Thornton. The video of the panel can be watched here.
Thousands of students across the country participated in #Strike4Repeal and the Colaition to Repeal the 8th Amendment's #March4Repeal on International Women's Day, Wednesday March 8th, in overwhelming support for a repeal of the 8th amendment. USI took part with students from Maynooth University, Trinity College Dublin and NUI Galway.
USI Hosts the ESC33 In Galway:
The President and the Deputy President hosted the European Students' Convention in NUI Galway, in partnership with NUIGSU. The event welcomed 80 student leaders and activists from 36 countries.
On Monday, the sessions explored barriers faced by students with a disability, and how to overcome them. The centrepiece event was a lively panel discussion featuring Niamh Herbert from the Disability & I campaign and Mary Quirke of AHEAD.
On Tuesday, the sessions examined the national access plan as a policy instrument, drawing in particular on Irish and Austrian experiences. The outcomes of the sessions will be presented to the Bolonga Follow-Up Group for the Social Dimension as the authoritative international student perspective on access.
On Wednesday, a half-day session considered the consequences of Brexit for European Higher Education, with a focus on international mobility, the internationalisation of qualifications, and research collaboration.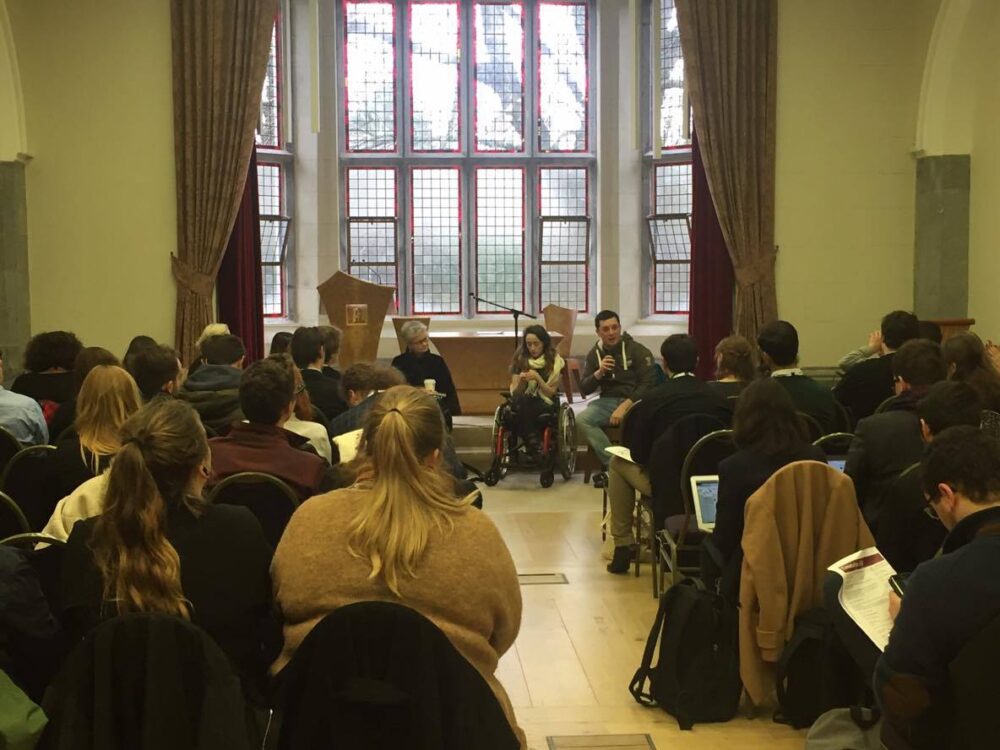 Students' Union News:
In relation to the SIPTU/USI campaign, LYITSU registered 82 ECCE students to SIPTU this week, 1st year and 4th year groups all signed up without question which shown the care they have on their professions.
USI Elections Spotlight (Local Hustings):
<u
Waterford Institute of Technology SU – Tuesday 14th March in the Auditorium on the WIT Cork Road Campus. Time TBC. Contact: supresident@witsu.ie for further information.
University College Cork SU- 15th March @ time and room allocation TBC. Contact: president@uccsu.ie for further information.
GMIT SU – 20th March @ 6pm and room TBC. Contact: supresident@gmit.ie for further information.