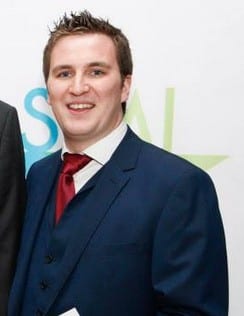 USI President Kevin Donoghue
The Union of Students in Ireland (USI) has joined forces with the Teachers' Union of Ireland (TUI) as part of its ‪#‎EducationIs coalition to campaign against the erosion of the publicly funded higher education system, and safeguard higher education for the next generation. The 'I Value Higher Education' campaign invites students, their families and teachers to sign the petition on http://chn.ge/1R6NBXz
"USI is proud to join with TUI on the 'I Value Higher Education' campaign which seeks to promote the value of higher education in Irish society." Kevin Donoghue, USI President, said. "The campaign acknowledges higher education as a central function within the social, cultural and economic fabrics of Irish society. It recognises the contribution already made to the Irish economic growth and social development through the provision of publicly-funded higher education; promotes free higher education as a public good; calls for equality of access to higher education opportunities and the provision of clear progression routes to enable lifelong learning; and advocates for the resourcing of a higher education infrastructure which can best meet contemporary national and international challenges and demands."
Today, the Irish state funds 14 institutes of technology, seven universities and six colleges. While the public higher education sector has expanded to meet growing demand, funding has not kept pace with this development. Regrettably, it has decreased significantly. In the last seven years funding in the higher education sector was cut by 32% (over €428.3m).
Aidan Kenny, Assistant General Secretary at TUI, welcomed the joint campaign by USI and TUI in support of free publically funded higher education. "It is vital that students and lecturers work together to achieve the aim of free quality higher education which is accessible to all." Kenny said "Higher education as a public good should be funded collectively by society through general taxation, corporation tax and a higher education levy. The market model of student loan schemes is not appropriate; it places an unacceptable individual debt burden on students and commodifies higher education into a product which can be sold."
The magnitude of the funding cut over a relatively short period of time is having a profound impact on the sector's capacity to function. In addition to the budget cuts, student tuition fees for undergraduate programmes have increased to €3,000 per year. The new proposed student loan scheme would deter students from applying to college and place a significant individualised debt on each student when they graduate and commence their careers.
The demand for places in the higher education sector has grown considerably, with an increase in student numbers of up 20% between 2008 and 2014. Presently, there are just over 200,000 students attending higher education programs (undergraduate and post-graduate) in the Republic of Ireland. At the same time, staffing levels have been reduced by 2,000 between 2008 and 2015. The funding cuts, rising student numbers and reduced staffing levels are pushing the higher education system to breaking point. The established quality and standards of the Irish publicly funded higher education system are being put at risk. If the current situation prevails much longer, irreparable damage will be done to the educational future of the next generation.
As the general election approaches, the 'I Value Higher Education' campaign invites people to raise higher education as an issue with candidates when they canvass and sign the online petition to campaign against the erosion of the Irish publicly funded higher education system, and safeguard higher education for the next generation on – http://chn.ge/1R6NBXz