USI is the national representative body for the 354,000 students in third level education on the Island of Ireland.  We are a membership organisation – our members are our affiliated Students' Unions around Ireland, North and South.
Democracy
USI is a democratic organisation. The supreme authority of the Union is the Congress, which is representative of each affiliated students' union, apportioned according to the size of the student body in each union. Each union also sends one voting member to the National Council – the executive body of the organisation.
Northern Ireland
A trilateral arrangement exists between USI, the National Union of Students in the United Kingdom and NUS-USI, the Student Movement in Northern Ireland.  NUS-USI was formed in 1972 to ensure that all students in Northern Ireland could be members of the national union they feel best represents them.  Check out the NUS-USI Website
Our members
Our members are the students' unions recognised by the colleges below.  Not every student body in Ireland is eligible for membership according to our constitution.  We refer to our members as 'Member Organisations' or MOs'.  Individual students gain their membership of USI through their membership of a local students' union.  We refer to individual student members as 'Ordinary Members'
Southern Region:
Waterford Institute of Technology
University College Cork
Cork Institute of Technology
Institute of Technology Tralee
Limerick Institute of  Technology
Limerick Schoolof Art & Design
Limerick Institute of Technology Tipperary
Carlow College
Institute of Technology Carlow
Templemore College of Further Education
Border, Midlands & Western Region:
National University of Ireland, Galway
Galway Mayo Institute of Technology
Galway Mayo Institute of Technology – Castlebar
Institute of Technology, Sligo
Letterkenny Institute of Technology
St.Angela's College, Sligo
Athlone Institute of Technology
National University of Ireland,Maynooth
Dundalk Institute of Technology
Dublin Region:
Trinity College Dublin
Dublin City University
Dublin Institute of Technology
Dun Laoghaire Institute of Art, Design & Technology
National College of Ireland
Institute of Technology, Tallaght
Institute of Technology Blanchardstown
Northern Region:
University of Ulster
Queen's University, Belfast
St Mary's University College, Belfast
Stranmillis University College, Belfast
Belfast Metropolitan College,
Southern Regional College,
South Eastern Regional College,
North Western Regional College
Northern Regional College
South Western Regional College
Terms
A 'candidate member' is a term of convenience which refers to a students' union which has completed the process of democratically verifying their intention to join USI but which has not yet been ratified by the National Council.  That member has a right of participation and engagement within rules set by the USI President.
A 'departing member' is a term used to describe a member which has democratically verified their intention to leave USI but which is not engaged with USI. That member has declined the right of participation in the national union.
USI Branding Guidance
USI's logo is a registered trade mark and may not be used without USI's express written permission. USI Brand Guidelines.
Now you've read those carefully, please find the logos you need.  Please don't stretch them.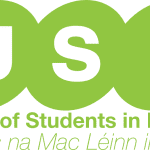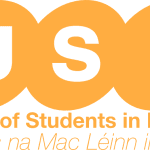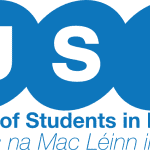 USI Bank Details:
BANK: Bank of Ireland
ACN: The National Council of the Union of Students in Ireland
AC: 22117410
SC: 900017
IBAN: IE08 BOFI 9000 1722 1174 10
BIC: BOFIIE2D
Branch: College Green, Dublin
Officers
President: Annie Hoey
Deputy President: Jack Leahy
VP Welfare: Cian Power
VP Equality and Citizenship: Síona Cahill
VP Campaigns: Dan Waugh
LU don Gaeilge: Maria Schäler
VP Border, Midlands and Western Region: Michael Kerrigan
VP Southern Region: Niamh Murtagh
Staff
General Manager: Ben Archibald
Administrator: Denise Glover
Commercial Services Executive: Eric Fitzgerald
National Student Housing Programme Co-ordinator: Karolina Pietkiewicz
National Student Engagement Programme Co-ordinator: Cat O'Driscoll
Public Affairs Intern: Ailish Logue
Trustees
Julian de Spainn
Ciara Brennan
Siobhán Fearon
Finance Committee External Members
Christopher Newell (Chair)
Gary Redmond
Richard Hammond
Accountants
Gareth I J Williams
Regulatory Information
The Union of Students in Ireland is an unincorporated entity and is neither registered as a company nor as a charity. It is a confederal organisation, created by and funded by Students' Unions jointly through its National Council, which serves as the National Executive body of the organisation.
The Union's structures include one incorporated entity: USIMS Ltd, a limited company which submits returns in accordance with the laws for regulation of limited companies.