Map Unavailable
Date/Time
Date(s) - 12/02/2021 - 13/02/2021
10:00 am - 2:30 pm
Categories
The Union of Students in Ireland invites you to EMpower 2021!
EMpower is an event which aims to empower, encourage, inspire and motivate students from ethnic minorities to put themselves forward for leadership positions in their Students' Union, clubs and societies on campus or any other positions of influence.
This two-day event will include discussions and presentations from inspirational student leaders on everything from running an election campaign to how to be a leader.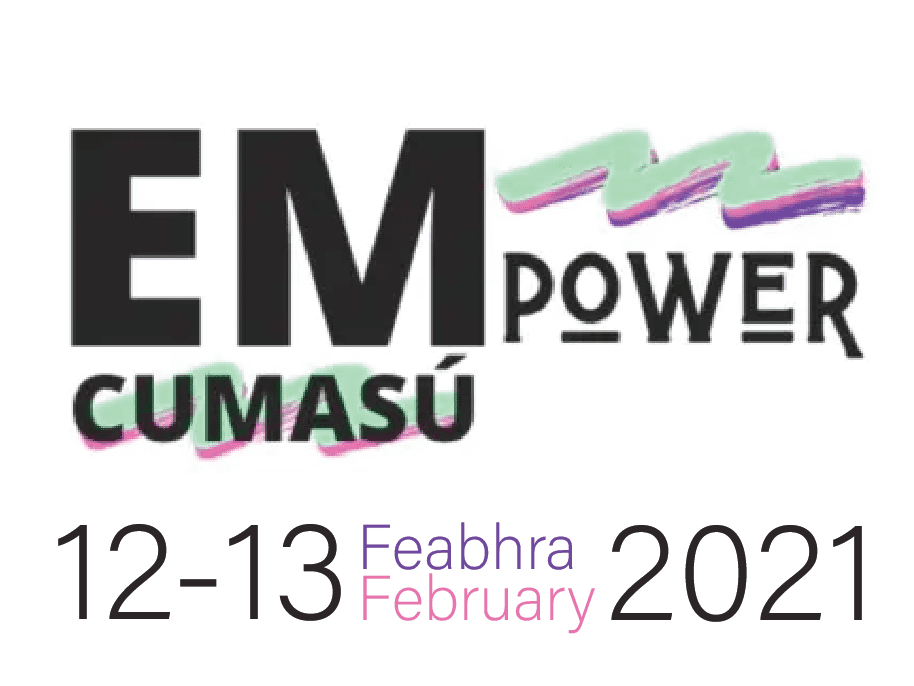 As a participant you will have the opportunity to engage with empowering panel discussions, motivational talks and learn invaluable skills that will help you running for election. This event is open to students and Students' Union officers from ethnic minorities who are currently studying in USI affiliated colleges.
This event will run over 2 days – Friday Feb 12th (4pm-8pm) and 13th (10am – 2:30pm).
Registration is free, but you must book your spot to get the link!
Timetable 
Friday, Febrary 12th 2020  
Lets hear from those leading within society…. 
4pm                         Welcome 
4:15                          Decolonisation of the Curriculum, Larissa Kennedy  
5pm                         Leadership, Leon Diop and Pierre Yimbog  
5:50-6pm                 Comfort break  
6pm                         Minorities in leadership, Dr. Ebun Joseph  
7pm                         Leading the change in our Society – panel discussion  
Chaired: Anastasia Crickley
Mariaam Bhatti 
Amanda Nyoni 
Amanda Ade 
Ola Majekodunmi
Cllr Uruemu Adejinmi 
Owen Ward
Ola Wuraola Majekodunmi
Tanaka Chakwana 
8pm Close of Day 1  
Saturday, February 13th  
Let's talk running for leadership…. 
10-11am                                  Leaders of the Student Movement
Bukky Adebowale, Vice President for Student Life, Maynooth Students' Union. 
Taidgh Kavanagh, President, DKIT Students' Union
Dajana Sinik, President, NCI Students' Union 
Margaret Hutchinson, Ethnic Minorities officer, AIT Students' Union
Nuttawud Nutchanat, Vice President for Education, MTU Cork Students' Union
Julian Nagi, Deputy President for Education, Maynooth Students' Union
Precious Ayoade, Ethnic Minorities officer, DKIT Students' Union 
11-11:05                                   Comfort break 
11:05-11:40                              Presenting yourself in an online world, Eric Ehigie 
11:40-12:10pm                         Running an online election, Lorna Fitzpatrick 
12:10-12:30                               Comfort break  
12:30-1:15pm                           Getting Ahead with Social Media, Angel Arutura 
1:15pm – 2pm                          Setting and Reaching Your Goal, Kate Acheson 
2-2:15pm                                  Close 
A note on GDPR:
USI collects and processes data on participants and facilitators for events for the purposes of managing the event. Personally identifying information is collected and retained securely.
Data collected for long-term storage includes Name, Email Address, Telephone Number and, where the person is engaged as a result of their work with an organisation, the name of the organisation.
For operational purposes, USI needs to retain this data for future reference, for up to a maximum of three years from the date the last event for which the person was engaged. Data may be deleted prior to the maximum period at the discretion of USI. For a full statement see: https://usi.ie/gdpr
If you have any questions please do not hesitate to contact: Marie, USI Vice President for Equality and Citizenship on equality@usi.ie
Bookings
Bookings are closed for this event.