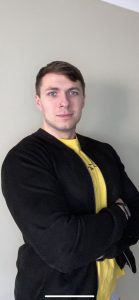 Current MTU Kerry Students' Union President, Chris Clifford has been elected President of the Union of Students in Ireland for 2023-2024.
A Health and Leisure graduate hailing from Tralee, Chris was today elected by delegates representing students and Students' Unions from across the island of Ireland at USI's Comhdháil.
Over 250 delegates are attending the four day congress in the Clayton Hotel, Sligo.
After graduating from MTU Kerry, Chris was elected Education Officer in his Students' Union and then went on to be elected SU President and re-elected to the position last year.
Chris will take up the role with USI on July 1, along with the rest of the new USI Coiste Gnó.
Speaking on his election as President, Chris said: "It feels a bit surreal to have been elected. Sai is a great guy and it was very close, with only four votes in it in the end. I hope to hit the ground running and am looking forward to getting going and delivering the change I promised in my speech at hustings.
"I did run a bit of a snuff campaign at the start, but that was to get students engaged. I thought it would be a way of engaging students that don't usually get involved with student politics to look at my campaign. But for Monday night, I put together a speech that I felt would let people know what change I want to see in USI and what I want to do as President. Obviously, that worked, and I intend to do what I said in that speech.
"My top priority is to engage with the Students' Unions around the country and to work on general student engagement – they go hand in hand really. I want to be radical about that."
The full USI Coiste Gnó (Executive) team for 2023-2024, as elected today, will be:
President
Chris Clifford (MTU Kerry SU)
Vice-President for Academic Affairs  Bryan O'Mahony (SETU Waterford SU)
Vice-President for Welfare Colette Murphy (DCU SU)
Vice-President for Campaigns  Zaid Albarghouthi (TCD SU)
Vice-President for Equality & Citizenship James Curry (TU Dublin SU) 
Vice-President for Postgraduate Affairs  Muhammad Mubashar Saeed (DCU SU)
Vice-President for the Southern Region  Kelda McManus (MTU Cork SU)
Vice-President for the Dublin Region Nathan Murphy (DCU SU)
As there were no remaining candidates for the positions of Vice-President for the Border, Midlands and Western Region and Leas-Uachtarán don Ghaeilge (Vice President for the Irish Language), bi-elections will follow.